Sensor Considerations
Determining which environmental phenomena need to be measured will help you determine which types of sensors you need. Most mesonet stations record a standard set of meteorological variables, but the measurements any specific station in your network includes should reflect the needs of your stakeholders. For example, growers in a northern state may be concerned about radiation frost killing their crops and will need measurements to support operations to prevent that loss from occurring. In this case, highly accurate temperature sensors with aspirated shields may be needed to measure temperature inversions. It may also be desirable to add a radiation frost detection sensor.
Resources: For more information on detecting frost, read the "Minimize Losses from Frost Using Direct Measurements" blog article, and refer to Apogee Instruments' Leaf and Bud Temperature Sensor web page.)
The following are some common parameters that many mesonet stations measure and for which you will need the appropriate sensors:
Air temperature
Barometric pressure
Rainfall amount
Relative humidity
Soil moisture
Soil temperature
Solar radiation
Wind direction
Wind speed
Moreover, the objectives of your mesonet project may require you to measure specialized parameters for which you will need the appropriate sensors. Some examples of these parameters are the following:
Leaf wetness
Long-wave radiation
Momentum flux
Net radiation
Sensible and latent heat fluxes
Short-wave radiation (albedo)
Snow depth
Snow water equivalent
Soil heat flux
Surface radiation temperature
Trace gases (for example, CO2)
Vertical profile of temperature and moisture
Vertical profile of winds
Weather radars (for example, X-band)
Obviously, selecting your sensors will probably involve a compromise of measurement needs from stakeholders, sensor performance and durability, maintenance requirements, and budgetary constraints. For each type of measurement, there are numerous sensor options you could use for your stations. Oftentimes, the sensors that have the highest accuracy preferred by specific scientific measurement needs may require frequent maintenance and will often cost more. At the other extreme, low-cost sensor solutions are seldom durable, require frequent replacement, and usually don't provide measurements that are accurate enough for stakeholders.
Suggestions and standards
Some proposed mesonet sites may involve challenging environmental considerations, such as extreme cold, high humidity, high heat, high altitude, or marine conditions. It is imperative in these situations to choose equipment that will not only provide good measurements over the whole range of possible conditions, but also survive in the extreme environment.
Most commonly, "surface" measurements consist of temperature and relative humidity, wind, precipitation, and air pressure. World Meteorological Organization (WMO) standards prescribe wind measurements at a height of 10 m in open areas, and pressure, temperature, and humidity at about eye level (1.5 m). There are however three regions (urban areas, mountains, and coastal zones) for which nature and/or people have created structures of significance on such small spatial scales that special measurement and network strategies are needed. These structures can create very strong gradients in atmospheric (and chemical) variables across short distances that are of vital importance to life and property. Whereas measurements over homogeneous terrain are intrinsically representative of a broader area, data in small-scale three-dimensional environments are often representative of only a tiny volume.
Instruments deployed in these regions will have unique requirements to ensure a successful and continuous data set. The following are some examples:
Wind instruments deployed in either high-elevation or high-latitude locations may require product versions that are heated. In the case of mechanical wind sensors, you may need cup or propeller anemometers with ceramic bearings that have a lubricant that can withstand colder temperatures and still operate within the manufacturer's specifications for starting thresholds.
Precipitation gages may consist of heated tipping buckets and/or heated weighing gages to capture precipitation year-round.
Note: Using heated instruments increases the power budget requirement of the station. Instruments that operate using dc power require a charging source (either ac or dc) and larger solar panels and battery combinations in the case of remote, unattended locations.
Because of salt and/or sea spray, combination air temperature and relative humidity probes deployed in marine or coastal environments may require filters that are either easily replaced or cleaned. In addition, applications in these environments may benefit from sensors with a special coating that is resistant to corrosive agents and pollutants. Deployment in more extreme environments may require product specifications with extended operating temperature ranges.
Solar radiation sensors deployed in any location that has a unique microclimate may require a heater that keeps water (liquid and frozen) off the sensor to minimize errors caused by dew, frost, rain, and snow blocking the radiation path. This helps ensure continuous measurement and data collection.
Barometric pressure sensors mounted in higher elevations need to be designed to cover lower pressure ranges while still measuring synoptic events. In addition, these sensors may need to be fitted with a pressure plate or pressure port to accommodate pressure fluctuations from wind passing across the sensing port (pitot tube effect).
Wind, air temperature, and water vapor pressure measurements are affected by surface type and roughness, soil moisture, regional topography, and obstructions. Sites selected for their applicability to a broader area should be free from obstructions such as buildings, trees, and steep slopes. Ten-meter towers are often used to raise measurement heights above low-lying obstructions. The following table lists the suggested measurement heights and exposure (distance to an obstruction) for each type of sensor. Notable standards are in parentheses with references below.
Suggested Measurement Heights and Exposure
Sensor Type
Measurement Height or Depth
Exposure Considerations
Wind

3 m ±0.1 m recommended (AASC)
2 m ±0.1 m, 10 m ±0.5 m, optional (AASC)
10 m (WMO & EPA)

No closer than ten times the obstruction's height
Air Temperature and Relative Humidity

1.5 m ± 1 m (AASC)
1.25 to 2.0 m (WMO)
2.0 m for temperature only (EPA)
2 m and 10 m for temperature difference (EPA)

The sensor must be housed in a ventilated radiation shield to protect the sensor from thermal radiation. The EPA recommends the sensor be no closer than four times the obstruction's height and at least 30 m from large paved areas.
Solar Radiation
Height should be consistent with the exposure standard (AASC, WMO, EPA). To facilitate leveling/cleaning, Campbell Scientific recommends installing at a height of 3 m or less.
The sky should not be blocked by any surrounding object. However, objects < 10° above the horizontal plane of the sensor are allowed.
Precipitation

1.0 m ±0.2 m (AASC)
30 cm minimum (WMO)

AASC and EPA suggest the sensor be no closer than four times the obstruction's height. The orifice of the gage must be in a horizontal plane, open to the sky, and above the level of in-splashing and snow accumulation.
Soil Temperature

10 cm ±1.0 cm (AASC)
5 cm, 10 cm, 20 cm, 50 cm, 100 cm (WMO)

Measurement site should be 1 m² and typical of the surface of interest. The ground surface should be level with respect to the immediate (10 m radius) area.
More details regarding specific sensor types are discussed in the following sections.
Temperature
Temperature sensors use thermistors or thermocouples as sensing elements. These provide very accurate analog measurements that are often used in automated weather stations. Thermistors yield independent measurements of air or soil temperature. In contrast, thermocouples require an additional reference temperature reading—normally furnished by a thermistor.
To maintain the accuracy and representativeness of these instruments, they are installed in special radiation shields (shelters) that have natural ventilation. Occasionally, the shields (or shelters) are artificially aspirated (from a dc-powered fan) to reduce biases caused by heat loading from the sun.
Periodic recalibration and/or validation of the probe is ideal. Independent temperature sensors are often checked against primary standards at multiple temperature points in temperature-controlled chambers or ice baths, glycol baths, etc.
Relative humidity
Modern relative humidity (RH) sensors are typically referred to as capacitive humidity sensors. They are built with a dielectric polymer (a poor electrical conductor but an efficient supporter of electrostatic fields) that changes its dielectric constant with changes in surface moisture. This capacitive circuit outputs a voltage proportional to the amount of moisture in the air.
It is important to consider the recalibration needs for these sensors. The best recalibration will be under laboratory conditions, preferably using a dew point generator that can output multiple repeatable water vapor concentrations. Other options include replacing the humidity-sensing elements on a regular interval (such as annually) with replaceable humidity "chips." When considering the options, keep in mind that handling these chips can affect the performance specifications of the sensor and introduce errors.
Resource: For more information about combination air temperature and relative humidity sensors, read the "Air Temperature and RH Sensors: What You Need to Know" blog article.
Solar radiation
Short-wave solar radiation is commonly measured with pyranometers. A pyranometer is a sensor that converts the global solar radiation it receives into an electrical signal that can be measured.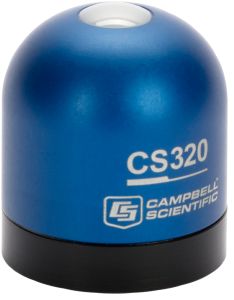 The intensity of solar radiation depends on the angle at which it reaches the earth. This is referred to as the zenith angle. The zenith angle is zero when the sun is directly overhead (vertical) of the earth. (This is when the solar radiation is most intense.) When the sun is lower in the sky, there is a larger angle between the vertical and the sun, so there is a greater zenith angle. (This is when the solar radiation is weak.) A good solar radiation sensor can account for weaker solar radiation to provide a more accurate representation of the solar radiation for a day.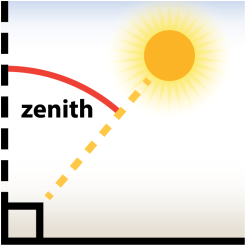 There are two common types of pyranometers: thermopile and silicon photocell.
For thermopile pyranometers, a thermopile is used within the instrument as the sensor, and the thermal gradients are measured across hot and cold areas (black and white). The radiation intensity is proportional to the temperature differences between the two sensing areas. Accuracy depends upon the sensitivity of the material used in the sensors, the response time, and the distortion characteristics of the material constituting the dome (if present) covering the sensors.
For silicon photocell pyranometers, electric current is generated by a photo-sensitive diode in proportion to solar intensity. Ordinarily, silicon photocell pyranometers are not fully sensitive to the full spectrum of visible light, and they cannot "see" a certain portion of the electromagnetic spectrum such as under cloudy conditions or vegetative canopies. Silicon cell pyranometers will introduce errors under these conditions. In full sunlight conditions, however, they are calibrated to properly output solar radiation measurements.
Resource: For more information about pyranometers, read the "Pyranometers: What You Need to Know" blog article.
Wind direction and wind speed
Wind direction sensors can be measured directly from a mechanical wind vane.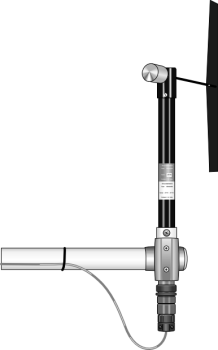 A wind direction sensor contains a circular potentiometer (typically 1 to 10,000 ohm resistance) used to determine vane direction (in the polar coordinate system). This type of sensor requires an excitation voltage to measure the resistance. When the wind direction is measured using an ultrasonic anemometer (that has no moving parts), the wind direction is computationally derived from the raw X, Y, or Z (for a 3-D ultrasonic anemometer) vector components.
Computations for a statistically correct averaged wind direction or wind vector are fundamental to mesonet stations today. These computations are useful in a variety of applications including climatology, agriculture, and EPA monitoring for dispersion modeling.
Processing average wind direction data is not simply accomplished by the computation of normal averages because the raw data is presented in the polar coordinate system (that is, 0 to 360 degrees). For example, imagine that the wind is from the north, you have 10 samples, and half of them are 360 degrees, whereas the other half are 0 degrees. The result is 180 degrees. While this is a mathematically correct result, it is meteorologically incorrect.
Horizontal wind speed is measured using anemometers, which are typically placed at a height not less than 2 m above the ground, and often at 10 m, following recommendations by WMO. The following are the most common anemometer types:
Mechanical three-cup anemometers that rotate about a vertical axis
Mechanical vane-mounted propellers that rotate about a horizontal axis
Ultrasonic anemometers that have no moving parts
Cup and propeller anemometers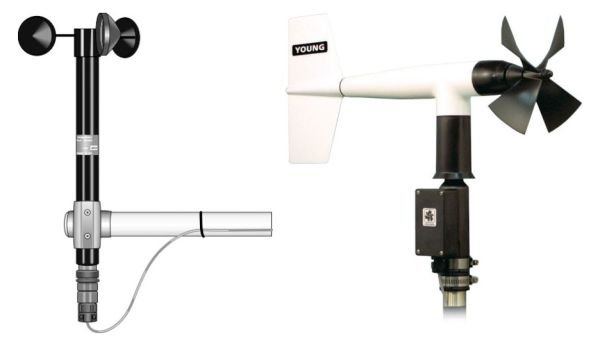 A cup anemometer responds to air flow past the cups in any horizontal direction, turning a vertical shaft at a rate that is proportional to the wind speed. Cup anemometers are designed to respond to the total wind, thereby overestimating the horizontal wind speed by a small percentage when a strong vertical flow exists. In contrast, a propeller anemometer follows a cosine response, measuring the component of wind parallel to the axis of rotation.
Measurements from both cup and propeller anemometers are reliable if routine maintenance is conducted to ensure appropriate functioning of the mechanical parts. In addition, these anemometers have the durability to withstand continuous use and provide a level of accuracy that is sufficient for most purposes.
The choice of the measurement system will depend on the output signal of the anemometer. For example, anemometers available in the market today are often equipped with generators that produce a voltage signal that is proportional to the wind speed. Some anemometers may be equipped with small magnetic reed switches or opto-electronic couplers that generate electric impulses in proportion to the wind speed.
Resource: For more information about wind speed measurements, read the "Why Do Variable Wind Speed Readings Occur with a Constant Wind?" blog article.
Ultrasonic anemometers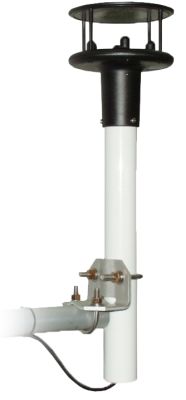 Ultrasonic anemometers use acoustic signals for measurement of wind speed. This method of wind measurement requires no moving parts, and maintenance is minimal. Obstructions in the measurement path can influence the measurement output. Typically, this type of sensor has no user-serviceable parts and can only be serviced by someone specially trained to do so. Consequently, the repair service or recalibration of an ultrasonic anemometer must be done by the manufacturer.
Rainfall amount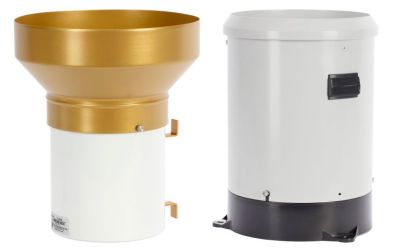 Rain gages provide a point measurement of rainfall amount, but there is a need to also know rainfall distribution. Rain gages in mesonets provide rainfall measurements with a high degree of accuracy at specific locations, but in most cases, the instruments are too sparsely distributed to accurately capture the high geographical and time-based variability of precipitation events. Weather radars and satellites can be used for this purpose, but they do not measure rainfall directly. Instead, rainfall is estimated in algorithms from their measured quantities. Because it is an estimate, it requires validation or a check for accuracy. Rain gage measurements can be used to validate weather radar and satellite rainfall estimates.
Tanner offers an account of sensors for measuring precipitation:
Liquid precipitation is measured using tipping bucket and weighing rain gauges. The tipping bucket gauges are popular because of the lower costs and simplicity. A septum divides the pivoting bucket into two volumes, one of which is always beneath the funnel draining the collection area. When the amount of water determining the resolution of the gauge is collected, the bucket tips and empties, positioning the other volume beneath the orifice. The tipping motion provides an electrical contact closure by sweeping a magnet past a reed switch. WMO recommends a minimum resolution of 0.2 mm per tip for research studies but volumes of 0.1, 1 and 0.25 mm (0.01 in) are also common. Nearly all gauges have stops which are adjusted to set the volume per tip. Where accuracy is important the manufacturer's calibration should not be assumed. Errors of 10% or greater are not uncommon, being worse for high resolution gauges.

A characteristic of tipping bucket gauges is the error in total precipitation which increases with rainfall intensity. This is caused in part by the total amount of precipitation collect yet not accounted for during the time interval required for each tip. The sensitivity of this error to rainfall intensity decreases for gauges having larger bucket volumes (lower resolution or larger orifice gauges).

Weighing gauges contain buckets which accumulate the total precipitation (liquid and winter precipitation) until they are emptied. The buckets rest on spring loaded platforms and their position is sensed by linear potentiometers, LVDT's etc. Weighing gauges are two to three times more expensive than tipping bucket gauges but their accuracy is not intensity dependent and their resolution is limited on by the mechanical sensitivity of the platform mechanism. They are used to record winter time precipitation by charging the bucket with anti-freeze to melt solid forms of catch. Whether weighing gauges or propane heating tipping bucket gauges are used, accurate measurement of snowfall is not possible under windy conditions because of the poor catch. Snowfall can be underestimated by up to 40% in 10 m/s winds because the particles are carried over the gauged orifice, regardless of shielding efforts.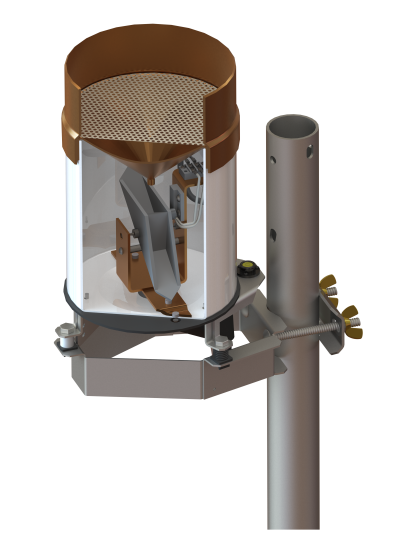 Barometric pressure
Barometric pressure sensors typically measure the range of 500 to 1100 mb. This range equates to less than sea level (as in an underground mining operation) to more than 15,000 feet above sea level. Current barometers feature variable capacitance-sensing elements. They can output data in analog (voltage or current) or digital data format, as described in their manufacturers' instruction manuals.
Barometers have no moving parts, and maintenance is minimal. Barometric pressure sensors have no user-serviceable parts. Because these sensors require specialized training for servicing, they need to be sent to calibration facilities.
Soil moisture and temperature
Modern methods for making soil moisture measurements are appropriately termed soil volumetric water content and soil water matric potential.
Soil volumetric water content probes provide data regarding how much water is in the soil.
Water matric potential probes are soil probes that, for example, provide data about the movement of water from the soil into the roots of a plant.
Soil moisture sensors are typically intended for long-term deployments with few maintenance requirements.
Soil temperature sensors come in a variety of designs using thermistors, thermocouples, thermocouple wires, and averaging thermocouples. The electrical signals transmitted from the sensors to a sensitive data logger that can resolve mV to µV signals can be converted to different units of measurement, including °C , °F, and °K.
Resource: For more information about soil water content sensors, read the "How to Find the Best Soil Water Content Sensor for Your Application" blog article.