Considerations for Selecting Station Sites
After you have roughly plotted the locations for the automated weather stations in your mesonet, you'll need to determine the ideal location for your stations. Identifying site locations for the stations can be a time-consuming task, as several of your first-choice location options may not be deemed feasible after more thorough consideration and investigation. For example, there may be accessibility issues or additional costs for a location that would complicate your maintenance of the site or significantly impact your operation cost.

As you can imagine, there are numerous considerations for this process, and each mesonet will have some unique issues. The considerations discussed in this section are meant to provide you with some of the more common issues that mesonet planners face.
An ideal location
In a perfect world, ideal locations would exist for all your mesonet stations. Unfortunately, we don't live in a perfect world.
Every attempt should be made to locate new stations in "ideal" locations. The ideal location would be a site with a large flat fetch with short vegetation. However, existing stations in most cases are compromised in one or more ways. Quite often the selection of the site is negotiated with a landowner, which means that the station cannot be located at the ideal site. If phone service or AC power is required to power the station, then the likelihood of some obstruction affecting the station is greatly increased. Therefore, a complete description of any obstructions that are closer to the anemometer tower than 30 times the height of the obstruction should be developed (Oke, 1978). Even "ideal" locations should have a site description so that it is clear that there are no obstructions. With the availability of solar panels to provide power for the instruments, and the new bandwidth technology for improved communication for data retrieval, selection of more ideal sites should be possible.
Not an ideal view for some
It's important to be sensitive to the human impact of viewsheds. While meteorologists may not mind a 30-foot tower on their property, many homeowners do not enjoy gazing upon a weather station from their living room window. In addition, a historical society or local community may not be in favor of siting a mesonet station in full view from a historical property.
Accurate representation and desired mesonet products
Your first consideration may very well be to determine which sites will provide you with an accurate representation of the setting and meteorological phenomena you want to monitor and measure. Your data should accurately reflect the reality of the region to ensure you can meet the objectives of your mesonet project.
The cornerstone of site selection requirements is to determine the purpose of the data to be collected from the site. For example, if the data will be used in agricultural applications, then the site should represent an agricultural setting.
Accurate representation plays a significant role in agricultural applications.
Collection of representative meteorological data is critical to agricultural applications. Therefore, careful attention must be paid to where a station is located within a region or landscape. Where a station should be located is dependent on the purpose for which the meteorological data are being collected. If the purpose of the data is to infer weather conditions at locations remote from the site, then the station should be located in an area representative of the general region.
Reviewing the needs of the mesonet stakeholders and the resultant needed mesonet products is critical. If your sites won't capture all the needed data to meet your objectives, you'll need to reconsider your site selections. Alternatively, you may need to reevaluate the importance of your objectives and possibly revise them. The Oklahoma Mesonet faced a similar challenge:
In the early stages of the project, consideration was given to locating sites near lakes or rivers to monitor hydrologic conditions. Included in this consideration was placement of sites to monitor stream stage, lake levels, ground-water levels, and surface and ground-water quality. It was found that satisfying hydrologic criteria would in many cases compromise criteria set for meteorological or agricultural uses.
Advertising
Using the local farm bureau to post notices about your need for site hosts may be a helpful tactic. The New York State Mesonet used this approach:
The NYS Mesonet is now ready to begin installing sites. The Mesonet will break ground on its first site this month, with about a third of the network installed this summer and fall. The entire system is expected to be completed and fully operational by Dec. 31, 2016. So far, about half of the 125 stations have been selected, and the goal is to select all the sites by the end of the year. If you have plenty of open land and are interested in hosting a permanent site, please contact us at (518) 442-MESO.
Accessibility and land ownership
Accessibility is of great concern to mesonet planners. You'll need to have year-round access to your sites so that you can maintain them. For example, if a site is only accessible via a seasonal road, you will be unable to maintain your station for part of the year.
Land ownership is another issue that ties in with accessibility. Consider whether permission to operate the site on the property is affected by property ownership. In an ideal world, the land that hosts your stations would never be sold to another landowner, and you would have an agreement that would ensure your stations are never torn down, fenced off, etc.
Keep in mind that the landowner can restrict where you station is located on the land.
A factor that often drives station site selection is the ability of the site host to support the station for years to come. Often, this means that the host (public or private) must agree to the location of the station. The sensors cannot interfere with other activities at the location, such as crop management (planting, irrigation, harvest protocols and equipment), airport flight operations, or water treatment. Occasionally, Mesonet stations must also meet aesthetic requirements of the host, as not all potential site hosts find these stations visually pleasing.
Working with landowners to select sites can be a positive experience. Mark Shafer, Director of Climate Services at the Oklahoma Climatological Survey, had this to say:
We would meet with the landowner and when we found a site acceptable to them and suitable for our criteria, we pounded in a wooden stake painted bright orange at the top so the technicians would know where to install it.
Household harmony
When considering your station sites, be sensitive to all household members that may have input on the use of their land for hosting a station. For example, while one spouse may like the idea of hosting a site, not all family members may agree.
Proximity
As you pinpoint the exact location for an automatic weather station site, remember to consider the location of the nearest sites that have already been selected. Hubbard and Hollinger offer this:
Where is the site in relation to other AWS stations? Stations that are located in proximity may have too much redundancy. On the other hand, accuracy checking improves as the separation distance decreases. National and regional databases would help to avoid duplication. The database might include ownership, operational contacts, accessibility, geographical coordinates, and the sensors and data collection frequency. The WMO guidelines may serve as a good starting point for site requirements, and managers could alter or add requirements as needed to meet the specific project needs.
Clearance and obstructions
Adequate clearance around the sites is highly important. For example, your sites should have limited vertical obstructions, such as trees or buildings, so that your wind and precipitation measurements are not impacted or obstructed. Hubbard and Hollinger discuss this topic in more detail:
Ideally, a station should be located in an open area where the instruments are not affected by vegetation or manmade obstructions…The vegetation over which the instruments are located should represent the general vegetation of the area. In most cases the ideal surface is a grass surface with the grass maintained at a height not to exceed 10 cm; however, if the station is located in a desert area, the surface under the instruments should be left bare. In all cases, the vegetation should be maintained at a height such that the instruments that measure atmospheric variables (temperature, precipitation, relative humidity, solar radiation) are located approximately 1 to 2 m above the top of the vegetation. When measuring wind and solar radiation, care must be taken to ensure that the instruments are not shaded by manmade structures or tall vegetation. The dome of the radiometers used to measure solar radiation should have a clear view of the horizon and the sky in all directions. This is often not possible because of the structures necessary to mount all the instruments at a station. Generally, obstructions to radiation measurements will not be a problem if the obstruction does not occupy > 1% of the sky hemisphere. Siting of wind instruments is critical to accurate measurement of synoptic winds. Standards for wind instrument siting are provided by the World Meteorological Organization (WMO, 1996). Hollinger and Scott (2001) describe effects of obstructions on wind measurements at some automated stations in Illinois.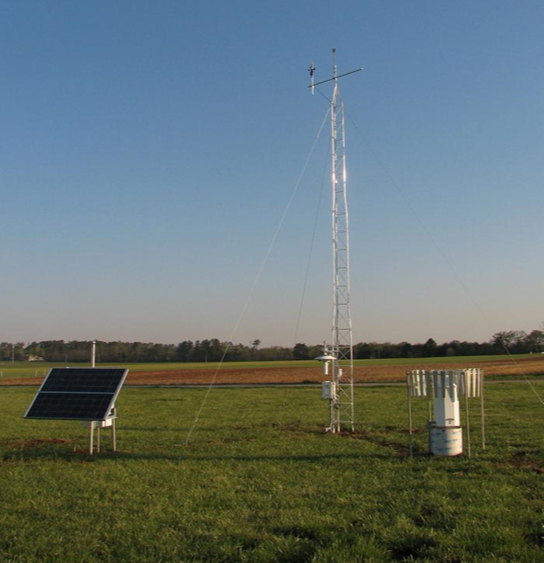 Wind obstructions can play a critical role in selecting sites and attaining representative data. Hollinger and Scott provide considerable information on this topic:
The effects of topography and obstructions can result in significant differences in wind observations at neighboring or distant stations in a weather station network. These effects make it difficult to make comparisons of wind data between stations. Application of the wind data to areas between the stations, a practice often required when evaluating wind damage, chemical drift, and estimating wind speed at a height different from the measurement for siting wind generators for alternative energy production, is compromised. Detailed descriptions of the topography and obstructions surrounding a weather tower may be used to help remove exposure effects from the wind measurements. Descriptions must include the distance of the obstruction from the tower, the obstruction height and breadth, and the density of the object. Vegetation descriptions in the vicinity of the station must, at the minimum, include height, breadth, and vegetation type (deciduous or evergreen). Examples from the Illinois Climate Network show the importance of selecting the appropriate site for a station to minimize the exposure effects of topography, buildings, trees, and other obstructions. Although failure to minimize these effects may limit the application of the data, it does not invalidate the data collected at the site.

The objective of a single weather station is to measure weather conditions at a specific location. Station networks include this objective and the objectives of comparing weather at different stations and interpolating weather conditions between stations. When wind is being measured at a single station solely to characterize the wind at that location and at the height of the instrument, no additional observations need to be made. However, application of wind observations at a given location often requires estimating wind speeds and directions at different heights and locations in the area surrounding the weather tower. Therefore, a station site must be characterized by its surroundings to understand how obstructions affect the wind flow at the station.

The World Meteorological Organization standards (WMO, 1983) require that wind measurements for synoptic purposes be measured at, or referenced to, a height of 10 meters (m) over open terrain. Open terrain is defined as an area where the distance between the anemometer and obstructions is at least ten times the height of the obstructions. With these standards, an acceptable site can be found in most areas. However, studies by Schmid and Oke (1990) and Wieringa (1992) show that large obstructions and terrain changes as far away as 5 km can affect the wind flow at a station. Thus, stations that meet the WMO synoptic standard may not truly represent the synoptic wind in a region.
Level ground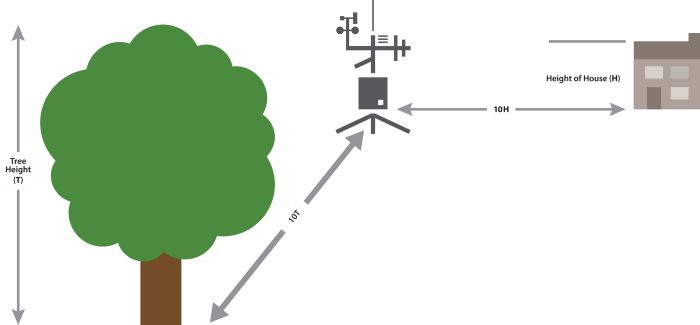 Each site should be on level ground (as much as possible) and away from obstacles and obstructions that could affect the measurements.
Resource: For additional siting considerations, refer to the "Guide to Meteorological Instruments and Methods of Observation" (https://library.wmo.int/opac/doc_num.php?explnum_id=4147).
Flood risk and federal and/or state siting requirements
Refer to FEMA's "Guidelines and Standards for Flood Risk Analysis and Mapping" web page (www.fema.gov/guidelines-and-standards-flood-risk-analysis-and-mapping) for the statutory and regulatory requirements for mapping. It may not be possible to use station sites that are considered to be in flood zones.
The primary mission of the New York State Mesonet is for use in emergency management. Thus, they had to ensure that their stations were not located in flood-prone areas. In addition, they installed several redundancies (backup power and communications) to ensure that their stations would continue to operate during emergencies.
Transmission
Two-way data communication is a key attribute of a mesonet. If cellular transmission of the mesonet data will be used, ensure each site has a strong cellular signal for reliable transmission. Grant and Toby offer the following advice:
To evaluate whether cellular communications is a possible solution to automated weather station communications, determine (1) if the right kind of cellular service (analog or digital (ed – 1XRTT to 4G) is available in the area of the AWS site, (2) what waveband the cellular provider uses, (3) whether there is a cell tower in line of sight and within 16 km of the AWS site, and (4) whether you have sufficient power at the site to meet the needs of the communications equipment.
Location types
Some location types may be more ideal than others for your mesonet. The following are some examples:
Staff from the New York Mesonet suggested that using sites on a university campus may be problematic because future growth may cause university officials to add buildings or repurpose the land.
Flood plain locations may be problematic in severe weather conditions.
While airports may follow good siting requirements, there may be considerable administrative red tape to work through.
The U.S. Climate Reference Network (USCRN) uses public lands (national parks and forests) and universities for its sites.
The New York State Mesonet worked with the agricultural industry to identify possible sites. They worked through university extensions to spread the word to solicit site hosts. After site hosts were found, possible locations were identified and then visited for surveying and determining suitability.
The availability of public versus private land may depend on the region and whether the stations would constitute undesirable viewsheds.
The Oklahoma Mesonet offered this information about its site selection:
The first sites to be selected were those on OSU or OU research land, primarily at OSU agriculture research stations. Many sites are located on property owned by federal, state or local government, academic institutions or foundations…About half of the site locations are on privately owned land. The land owners have loaned a parcel of their land – free of charge – for use by the Mesonet.
Standards
Some standards for mesonets have been formally outlined:
…stations are often placed in locations that best achieve the following objectives (AASC 1985; EPA 1987; WMO 1983; WMO 2008; LeRoy 2010):

Maximize airflow for naturally aspirated temperature, humidity, and pressure sensors.
Minimize nearby obstructions to ensure accurate radiation measurements.
Minimized wind flow around the precipitation gauge.
Ensure soils are representative of the surrounding region.
Maximize distance from tall obstructions (e.g., buildings and trees) to ensure accurate wind measurements that are often recorded at 2, 3, 5 and/or 10 m above ground. One rule of thumb is that the minimum desired distance between a tall object and a station is about 10 times the height of the object.
Maximize long-term stability of surrounding land cover.
Maximize site host's ability to support the station over the long-term. Radiation, temperature, humidity, wind and pressure sensors typically require open exposure, with no obstruction to incoming radiation or airflow.
Station siting requirements also must consider needs for power and communications. Some Mesonet stations require access to AC power, particularly to meet the power demands of aspirated temperature shields and sensors with heating elements. However, many mesonet stations use only solar panels to power sensors (including aspirated shields), data logger, and communication subsystems. In either case, mesonet stations typically use power sources interfaced with trickle-charge batteries, providing stored energy capacity. Also, as wireless cellular communications networks become more pervasive and cost-effective, many mesonets make siting decisions based on access to these networks.
One approach
As you can see from these considerations, selecting sites can be a difficult and time-consuming process. The Oklahoma Mesonet followed this process:
The site selection process encompassed (1) developing a list of potential site locations, (2) soliciting other agencies for input regarding their needs for environmental data in localized areas of the state, (3) seeking assistance on the local level for finding suitable sites, (4) contacting the individual landowners and (5) executing a land-use agreement.
References
Kenneth G. Hubbard and M. V. K. Sivakumar, Automated Weather Stations for Applications in Agriculture and Water Resources Management: Current Use and Future Perspectives (proceedings of an international workshop, Lincoln, Nebraska, March 6-10, 2000). http://www.wamis.org/agm/pubs/agm3/WMO-TD1074.pdf.
On-Site Meteorological Program Guidance for Regulatory Modeling Applications, EPA-450/4-87-013 (Environmental Protection Agency, 1987).
R. H. Grant and D. Toby, "Cellular Communications for Automated Weather Stations," Automated Weather Stations for Applications in Agriculture and Water Resources Management: Current Use and Future Perspectives (proceedings of an international workshop, Lincoln, Nebraska, March 6-10, 2000): 41-48. http://www.wamis.org/agm/pubs/agm3/WMO-TD1074.pdf.
R. Mahmood, R. Boyles, K. Brinson, C. Fiebrich, S. Foster, K. Hubbard, D. Robinson, J. Andresen, and D. Leathers, "Mesonets: Mesoscale Weather and Climate Observations for the U.S.," Bulletin of the American Meteorological Society. http://journals.ametsoc.org/doi/pdf/10.1175/BAMS-D-15-00258.1.
Steven E. Hollinger and Robert W. Scott, "Station Wind Characterization," Automated Weather Stations for Applications in Agriculture and Water Resources Management: Current Use and Future Perspectives (proceedings of an international workshop, Lincoln, Nebraska, March 6-10, 2000): 63-75. http://www.wamis.org/agm/pubs/agm3/WMO-TD1074.pdf.