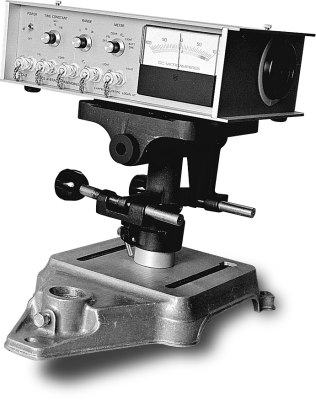 The CA-9 Path-Averaging Laser Anemometer, the first product marketed by Campbell Scientific.
Campbell Scientific was organized in 1974 by two brothers, Eric and Evan Campbell, in Logan, Utah. Other Campbell family members assisted in the business venture by providing the initial capital, direction, new product definition, and conceptual development.
The first product Campbell Scientific marketed was the CA-9 Path-Averaging Laser Anemometer in 1974. The laser anemometer was followed in 1975 with the company's first data acquisition system, the CR5 Measurement & Control System. Since the introduction of the CR5 in 1975, Campbell Scientific has manufactured more than 391,000 data loggers.
Building on decades of experience, Campbell Scientific has developed increasingly powerful data loggers that have achieved worldwide use in environmental, research, and industrial markets for diverse applications. Over the years, Campbell Scientific has also established itself as a reputable manufacturer of numerous related product lines for the measurement field, including a wide variety of sensors, as well as devices for the collection, storage, communication, and retrieval of data.
Through innovative product development, the manufacture of high-quality products, and excellent customer support, Campbell Scientific endeavors to meet the instrumentation needs of their customers. To better serve their customers worldwide, in 1980, Campbell Scientific began to open affiliate offices across the globe. Today, affiliate offices operate in Australia, Brazil, Canada, China, Costa Rica, France, Germany, India, South Africa, Southeast Asia, Spain, the United Kingdom, and the United States.