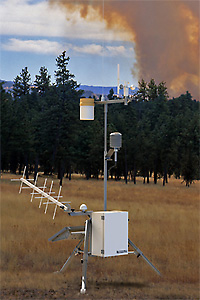 The arrival of warmer weather (at least in the Northern Hemisphere) brings with it the 2009 fire season. Many of us don't think about wildfires until we hear about them on the news. For others, however, it's their job to think about them all the time—how to prevent, manage, and fight them. Between nature- and human-ignited fires, there's certainly a lot to think about. On average over the last 10 years, 80,030 wildfires have burned 6,897,922 acres per year in the United States. These figures would be much higher if we were to include prescribed burns.
With weather being a major factor in both creating fire danger and spreading fires, the need for accurate weather measurements has made automated weather stations an important tool. Fire danger prediction involves many factors, including the topography of the land, current and recent weather, and the characteristics of wildfire fuels (e.g., wood, grass). All of these variables are used by National Fire Danger Rating System (NFRDS) algorithms that estimate fire danger.
Permanent fire weather stations, such as our RAWS-P station, continuously monitor, record, and transmit meteorological data used by these algorithms. Standard measurements include precipitation, temperature, relative humidity, solar radiation, wind speed, and wind direction. Fuel moisture and temperature can easily be added. This rating system provides reliable information that helps make the public aware of danger and help land managers make decisions and prepare for possible fire scenarios.
Weather stations not only help us understand the potential for future fires, but they are a useful tool for fighting existing fires and monitoring prescribed burns. Precipitation, temperature, relative humidity, and especially wind can influence the speed at which fire spreads. The need for on-site weather measurements is met by portable stations, such as our RAWS-F station. These quick-deploy stations can be set up in 10 minutes or less without tools. The stations are preprogrammed, ready to output the weather parameters that are useful to firefighters.
Radios can be integrated into both permanent and quick-deploy weather stations, making it possible for fire fighters to call the fire weather station via a hand-held radio and receive a verbal report of site conditions. Telemetry options include a GOES satellite transmitter for sending data to the National Interagency Fire Center (NIFC), in Boise, Idaho. NIFC is the wildland firefighting support center for the United States.
Campbell Scientific weather stations have been used for years in fire-weather applications. In addition to offering permanent and quick-deploy stations, we offer retrofits for existing stations that use existing sensors and mounts, but swap out the data collection platform (DCP).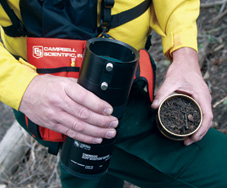 We also offer a duff moisture meter, the DMM600, for fast and accurate on-site duff moisture measurement—useful for planning prescribed burns. Our dataloggers can be used together with thermocouples and other sensors for researching wildfires and fire-protection equipment.
Contact us any time to talk to a fire-weather-station expert.