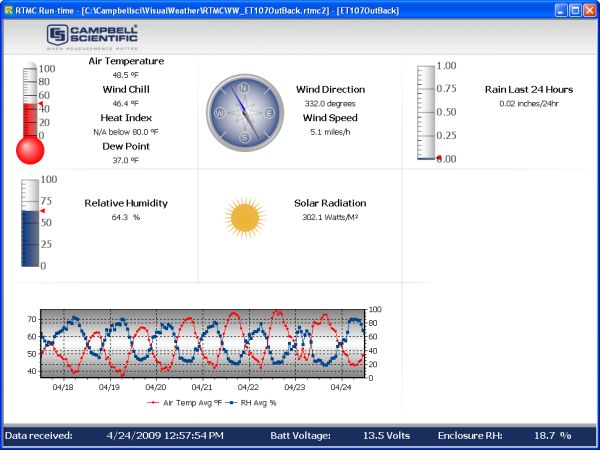 VisualWeather is our support software for preconfigured weather stations. Version 3.0, which began shipping March 31, 2009, adds support for the ET107 and the Toro T107. In addition, this version incorporates RTMC Pro* for creating its real-time displays and web-page-compatible graphics. These displays provide an even more polished, updated look for VisualWeather.
VisualWeather's standard reports can be generated monthly, weekly, or daily, or a date can be entered for custom reporting. The reports include:
Datalogger health statistics

Enclosure relative humidity

Met station data

Air temperature
Solar radiation
Relative humidity
Rain fall
Wind speed
Wind rose

Barometric pressure
Soil water content
Leaf wetness
Snow depth
Soil temperature
Fuel moisture content

Calculated data

Evapotranspiration
Crop water needs
Growing degree days
Dew point

Chill hours
Wind chill
Heat index

VisualWeather uses a database for storing data collected from weather stations. In version 3, an updated database results in even faster report generation than previous versions. If an existing installation of VisualWeather 2 is upgraded to version 3, the data in the database will automatically be ported to the new database format. (Data from version 1 is not compatible and will not import into version 3.)
Upgrade pricing is available. Contact a Campbell Scientific application engineer today to see if VisualWeather meets your weather station data collection and reporting needs.
*Note: The version of RTMC Pro incorporated into VisualWeather cannot be used outside of VisualWeather.
Visit the VisualWeather Software page