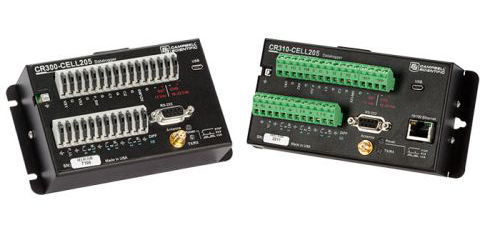 You may have heard about the new integrated cellular modules available as options on some of our dataloggers. But do you know what these options really offer, and how they can help your data communication needs now and for decades to come? Here are answers to help you choose the option you need.
The CR300 and CR310 dataloggers are now available with integrated cellular modules—perfect for use in your measurement and control applications. Last year we released the -CELL200 option for these two dataloggers. We have recently released the -CELL205 and -CELL210 options for the CR300-series dataloggers.
Our first offering, the -CELL200 option, is suitable for use in countries where 3G networks are not sunsetting. The -CELL205 option is intended for use in Canada, Mexico, and the United States. This option offers 4G LTE cellular technology with 3G fallback. The -CELL210 option is designed for use in the United States, only on the Verizon 4G LTE network.
Later this year, we plan to release datalogger models that are designed for use in other countries. We are also developing external cellular-enabled 4G LTE and 3G communication devices for release later this year.
Campbell Scientific cellular modules are truly low-power devices. When the integrated cellular module is idle, the device adds just 8 to 20 mA on average to the CR300 current drain. In contrast, competitor equipment runs at up to 95 mA when in this same state.
To transmit and receive data, Campbell Scientific cellular modules use, on average, 75 to 105 mA, while some other industrial cellular devices use up to 300 mA. If you need to, you can conserve even those extra milliamps of power using CRBasic instructions or by configuring the schedule settings.
Do you need to communicate with your CR300 or CR310 datalogger, but the integrated cellular module is idle? Not a problem. The device is still responsive, and you can communicate with your datalogger immediately. You don't have to wait for the module to power up and connect to the cellular network before talking to it.
You can control Campbell Scientific integrated and external cellular communication equipment via settings that you configure in the Device Configuration Utility, or via the popular CRBasic programming language. If you subscribe to our new cellular data service when you order these new products, then you get our Konect PakBus Router services included for no extra charge.
If you are looking for technology that will be supported for more than a decade, we recommend using 4G LTE products such as these new integrated and external cellular modules. These devices will be the standard for at least the next 10 to 20 years.
Learn more about our cellular data services available for cellular modules in our Now Offering Cellular Data Services newsletter article.