In December 2009, Campbell Scientific replaced the CR200-series dataloggers with the CR200X-series dataloggers. The new dataloggers feature expanded memory for the program and operating system (OS). The expanded memory allows: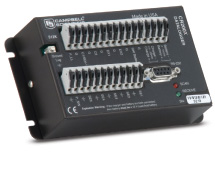 Up to 128 public variables instead of 48
Up to eight tables instead of four
Compiled CRBasic programs that are two times larger
All CR200X instructions to be included in one standard OS
Like their predecessors, the CR200X-series dataloggers are small, lower-cost devices. Their single-ended input-channel configuration is optimal for measuring one or two sensors. Three of the models include internal spread-spectrum radios, allowing them to be part of a wireless sensor network.
CR200X Models
CR200X—Base model
CR206X—Includes internal 915 MHz spread-spectrum radio (US and Canada) that transmits data to another CR206(X) datalogger, an RF401 radio, or an RF430 radio
CR211X—Includes internal 922 MHz spread-spectrum radio (Australia and Israel) that transmits data to another CR211(X) datalogger, an RF411 radio, or an RF431 radio
CR216X—Includes internal 2.4 GHz spread-spectrum radio that transmits data to another CR216(X) datalogger, an RF416 radio, or an RF432 radio
CR295X—Used with the TX312 HDR GOES satellite transmitter