In the early 1980s, the National Weather Service (NWS) initiated the Integrated Flood Observing and Warning System (IFLOWS) throughout the Appalachian region of the Eastern U.S. The IFLOWS program expanded quickly in the early 1990s, and now covers flood-prone regions in 12 states.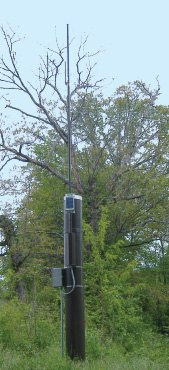 As an IFLOWS cooperator, the Virginia Department of Emergency Management (VDEM) developed a network of nearly 300 gauging stations that use the ALERT communication protocol. Data from this extensive network are shared with the NWS and other cooperators through the IFLOWS network.
Many advances in technology have been made since the rapid growth of the Virginia IFLOWS network in the 1980s and 1990s. Additionally, pressure to comply with FCC regulations for narrow banding increased. These issues led VDEM to begin a network-modernization effort by exploring and evaluating the newest generations of ALERT platforms.
Their search led them to MapTech of Blacksburg, Virginia, who worked with Campbell Scientific to provide a solution. Using the CR200 and CR800 dataloggers and RF500M intelligent radio modem, MapTech created packaged transmitters with both measurement and telemetry abilities. The systems meet VDEM's ALERT needs while providing capability and flexibility not present in their existing hardware.
The core product features include:
Drop-in replacement for existing transmitters
Compact size to fit in 12-inch standpipes
Time- and event-driven ALERT data transmission
ALERT packet repeating and logging
Programmable acquisition and logging of sensor data
Programmable control of lights, gates, and other devices
Two-way communication support
Field upgradable to support new protocols and telemetry methods
Over 90 transmitters are currently being deployed throughout Virginia. The stations in the network that monitor water level with pressure transducers and ultrasonic sensors have special signal converting and data scaling needs. These stations also need to log all measured data—not just the transmitted flood-warning information—for sharing with agencies to use in analysis of historical measurements. Since the new packaged transmitters can handle all these needs better than the old ones, the water-level-measuring sites are receiving top priority during deployment.
The new transmitters have proved to be easier to program and to provide more diagnostic information than the previous transmitters. They are fulfilling the promise of a drop-in replacement, with all the capabilities of the old system plus significant added features.