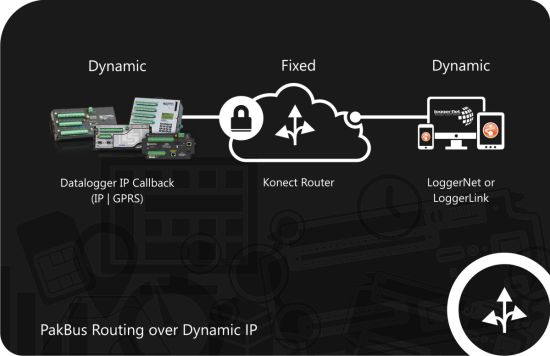 IP communication has significantly changed the way many of us access our data loggers. It is reliable, fast, and readily available—anywhere you have access to "the Internet," you have the ability to use this protocol to communicate with your data logger.
Sometimes, however, network access to your data logger is restricted in some way. The data logger may sit behind a firewall or be connected to a network that is not openly available to the public. This is where Campbell Scientific's Konect PakBus Router comes into play.
The Konect PakBus Router is a cloud-based routing service that provides a bridge between two PakBus devices that would otherwise be unable to communicate with each other. PakBus devices include personal computers or mobile devices running Campbell Scientific software, data loggers, and communication peripherals. This means, for instance, that LoggerNet running on a PC can connect to your data logger using this bridge—even if your data logger sits behind a firewall.
With the Konect PakBus Router service, you are provided with a URL and port number that are used to make the connection between the two PakBus devices (for example, a computer and a data logger). Both devices must be capable of initiating an outgoing connection to the Konect PakBus Router from the network they are connected to. In the example of LoggerNet communicating with a data logger, this means that LoggerNet and the data logger both must be able to "call out" from their networks to the Konect PakBus Router, using the URL and port number provided.
For LoggerNet, the URL and port number are entered into the Internet IP Address field for an IPPort in the Setup window.
For the data logger, the same URL and port number are entered into the PakBus TCP Client field of the data logger's Settings table.
With this setup, the data logger will maintain a connection to the Konect PakBus Router, and LoggerNet will contact the Konect PakBus Router whenever it needs to make a call to the data logger.
Tip: For communication links where data usage is a concern or the communication network is available only at certain times, you can program the data logger to establish a connection under program control (that is, call-back), rather than continuously maintain a connection.
For sensitive data transmission, you can enable PakBus/TCP security and PakBus encryption in the data logger. PakBus/TCP security protects PakBus communication over a TCP/IP communications link. With PakBus encryption, PakBus packets are secured end-to-end using Advanced Encryption Standard (AES) 128. PakBus encryption keys are not shared with Konect PakBus Router services.
These are some scenarios where you may find the convenience of Konect PakBus Router very useful:
Ethernet communication blocked by a firewall
Wi-Fi communication via an internal (publicly inaccessible) network
IP satellite communication
Dynamic or non-public cellular IP addresses
Data logger call-back to a PC where the PC is not on a public network
Data logger-to-data logger communication
LoggerLink connections to a data logger that are blocked by mobile-to-mobile restrictions on a provider network
Konect PakBus Router is a simple and secure way to get around the headaches associated with IP communication. Do you have an application where Konect PakBus Router might be useful? If you would like additional information, contact your Campbell Scientific field office or local representative. If you are already using Konect PakBus Router, leave a comment below and tell us how it's helped solve your IP communication problem!