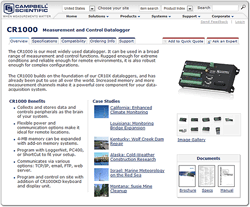 See an example.
If you've been on our website recently, you may have noticed a few changes. We've made three significant improvements that will make it easier to find information about our products. First, there are hundreds more products available on the site. In the past, we typically listed our major products. Now, you can view many replacement parts and accessories that complement our major products.
The second major improvement is that there is significantly more information for most products—so much so that we've organized it into five tabbed sections. Take a look at the box at the end of this article to see the information we included in each section.
The third major improvement is the ability to see pricing right on the website. This feature is available only to customers who have purchased from us. Customers who have purchased from us and have registered for an account will see pricing on each product's Ordering Info tab, along with all of the product's options. If you are a qualifying customer, see the instructions in your newsletter email to register, or visit the registration page at www.campbellsci.com/register.
For those who have not yet purchased from us, we continue to offer the Quick Quote feature, which allows you to submit a list of products and then receive pricing customized to your region.
We are interested in hearing your feedback. Please let us know if you have suggestions that will help us improve our website.
New Product Page Sections

Overview tab:
Short product description
Product benefits
Related case studies
Product images and documents
Related products

Specifications tab:
More thorough technical description
Major specifications
Weights and dimensions
Compatibility tab:
Matrix of compatible dataloggers
List of compatible software
Other relevant compatibility details
Ordering Info tab:
Table showing:
--Product model number
--Ordering options
--Accessories
--Replacement parts
--Related services
--Pricing (if registered as a qualified customer)
Ships With list
Shipping weights and dimensions

Support tab:
Self-help resources
--Related documents
--List of related software downloads
--FAQs
External help resources
--Link to the forum
--Ask an Expert form
--Technical support phone number