The SI-111 consists of a thermopile, which measures surface temperature, and a thermistor, which measures sensor body temperature. The two temperature sensors are housed in a rugged aluminum body that contains a germanium window.

Both the thermopile and the thermistor output a millivolt signal that most of our dataloggers can measure. The datalogger uses the Stefan-Boltzman equation to correct for the effect of sensor body temperature on the target temperature. The corrected readings yield an absolute accuracy of ±0.2°C from -10° to 65°C.
Field of View (FOV)
The SI-111 has a 22 degree half angle field of view (FOV). The FOV is reported as the half-angle of the apex of the cone formed by the target (cone base) and the detector (cone apex). The target is a circle from which 98% of the radiation viewed by the detector is being emitted; see image.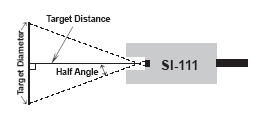 Note: Prior to November 2008, the SI-111 was named the IRR-P.