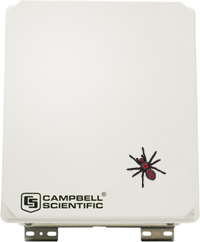 Many of you have worked with our Repair and Calibration Department over the years to keep your products in top operating condition. Like many companies, Campbell Scientific has a standard return-materials-authorization (RMA) process for these services. We recently revised this process and need to make you aware of the changes we've made.
As we have received returned products in the past, we've occasionally been surprised by various types of "critters" that came along for the ride. At times, we've also found products covered with unknown substances. In the interest of protecting the health and safety of our employees, we have implemented a new policy requiring that all products returned for service be (1) clean, and (2) uncontaminated with harmful substances, such as chemicals, biohazards, and insects. As part of this policy, we now require that a new form, Statement of Product Cleanliness and Decontamination, be submitted before shipping products to Campbell Scientific.

To facilitate this, as part of the RMA process you will be emailed a link to the form when you are assigned an RMA number. The link will allow you to complete and submit the form on our website. When you submit the form, a copy will be sent to you and to our Repair and Calibration Department.
If you would like to review the complete RMA process, please visit the Repair and Calibration page of our website. Please direct any questions you have about this process to our Repair and Calibration Department at (435) 750-9535. Thank you for supporting our efforts to protect the health and safety of our employees.