Author: Robin Deissinger | Last Updated: 01/11/2017 | Comments: 0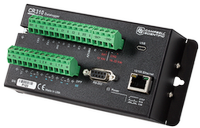 In this short interview, Sam Utley, the product manager for the new CR310, tells us about the enhanced functionality this datalogger provides and why he feels the CR310 offers exciting possibilities for our customers. Sam is a member of the Product Management (PM) team at...
read more
Author: Dana Worley | Last Updated: 12/07/2016 | Comments: 2

The Internet of Things offers a lot of advantages in today's culture. There are consumer devices that let you monitor and control mood lighting and music in your home, keep track of last week's leftover dinner in your refrigerator, and help you brew a cup...
read more