It's 2020, and yet those of us who need water level monitoring and flood warning systems continue to face the quandary of choosing between easy-to-use stations OR flexible stations that can handle all our measurement and control needs. In the years of self-driving cars and telecommuting jobs, could someone please figure out how to create a flexible yet easy-to-use monitoring system? And would it be too much to ask if it had a long lifespan?
Campbell Scientific systems have become synonymous with the ideals of reliability, durability (these things seem to last forever), and flexibility. However, ease of use hasn't always been our most well-known trait. Admittedly, CRBasic (our proprietary data logger coding language) can be a bit complex to learn. The truth remains, however, that after a person learns CRBasic, he or she opens levels of flexibility that are near limitless. In fact, the main limitation then is the imagination of the person coding.
A secondary limitation common to many traditional water level monitoring and flood warning systems—especially those used in the traditional flood warning market—is the lack of abundant connectivity options. Again, this is 2020. I can talk to my car, but I need a nine-pin serial cable to program my monitoring station? I would love to be able to sit in my truck or, better yet, at my office and check up on my stations. Maybe I could even troubleshoot any problems from there. Wishful thinking, right?
Fortunately, Campbell Scientific has taken this type of feedback and developed the ALERT205 series for the flood warning market.
Addressing the Issues
To begin, we understand that not all stations or applications are the same. So, having a one-size-fits-all form factor is probably not going to hit the mark. The ALERT205 can be ordered as one of three installation options: in a standpipe (ALERT205-C), mounted in the enclosure of your choice (ALERT205-P), or even with its own low-profile NEMA enclosure (ALERT205-E). Now, this is getting somewhere in terms of ease of use, but that might not be enough.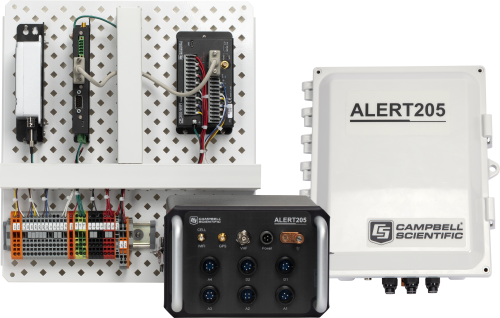 As for that connectivity issue I mentioned, these ALERT205 systems come with the ability to add a communications module. The options include Wi-Fi, cellular, or a 900 MHz line-of-sight radio. These sound great, but why should you care about them?
The Wi-Fi option gives you the ability to connect to the unit wirelessly while onsite.
The cellular option offers the same capability as the Wi-Fi option, but it can now extend much further past the site, creating a global connection.
The 900 MHz option enables you to collect data from another site nearby that uses the same radio. This can create a wireless connection between your unit and almost any sensor on the market.
Now to the big-ticket item: flexibility. The ALERT205 uses a unique, easy-to-use, browser-based interface that is hosted by the transmitter. All you need to do is connect to the IP address of the data logger and start using the ALERT205 interface. (You don't need to install and maintain any software, and you don't need to be proficient with a programming language.) The user-friendly interface comes with a Getting Started guide located on the home screen (Dashboard).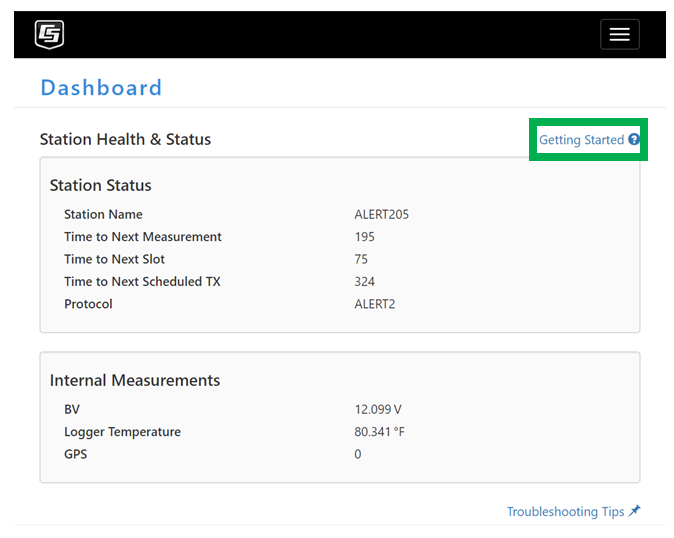 The interface allows you to easily set up many commonly used sensors. If you don't see your sensor, no problem. You can add generic sensors. This gives you flexibility without sacrificing on ease of use.
To make the connection to the interface, you use a Wi-Fi, cellular, or even USB connection. That's right, even USB. The data logger for the ALERT205 operates using Remote Network Driver Interface Specification (RNDIS), a protocol for a virtual Ethernet connection. It effectively turns the micro-USB connection into a local area connection. You simply connect the USB cable to the Windows-based laptop or tablet and open your web browser to 192.168.66.1. (By the way, we recommend using either Chrome or Firefox for your web browser.)
More Information
I hope you're as excited as I am about no longer compromising ease of use for flexibility, or vice versa. The ALERT205, I believe, offers some great possibilities for those of you with water level monitoring stations or flood warning applications. You can learn more about the ALERT205 on the ALERT205 product web page. Also, watch our video tutorials on setting up the ALERT205.
If you have any questions or comments about the ALERT205, please contact our sales team at (435) 227-9120.