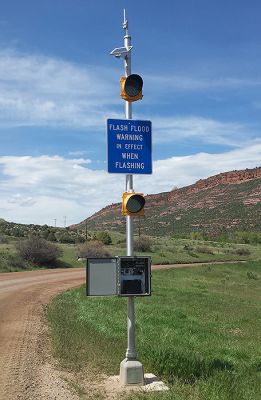 When it comes to weather conditions, looks can be deceiving. An area that appears to be experiencing mild weather may soon experience conditions that are dangerous to human life. How can you prepare for rapidly changing weather conditions and ensure the safety of those in the affected area? In this article, we'll discuss how accessing credible data from the Internet can play a key role in public warning.
Imagine you and your family are loaded up in the car and on the way to your favorite outdoor activity (such as biking, hiking, camping, or climbing). If you live in the western United States, your destination might be a remote location with variable terrain that experiences spatially diverse weather conditions. As you turn off the highway and head up a canyon, you see a flasher system on the side of the road alerting you to the possibility of flash flood conditions. What's going on? The sun is shining, the sky is blue, and the weather seems as nice as it was at home.
Warning systems such as this are designed to help keep people safe, especially when they are enjoying outdoor recreational activities—or even if they are just driving to a recreational area.
A Recent Application
Recently, equipment was installed for use in systems that warn of potential flash flood conditions. The equipment was installed in two popular recreation areas: Redstone and Rist Canyons, located on the Front Range of the Rocky Mountains near Fort Collins, Colorado. A Campbell Scientific integrator, Water and Earth Technologies (WET), installed the two systems on behalf of Larimer County. Each system includes a CR1000 datalogger, cellular modem and antenna, and power supply.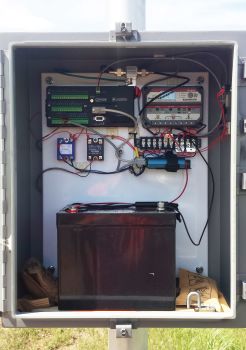 The Redstone and Rist Canyons were outfitted with the warning systems because of their vulnerability to flooding conditions. Both canyons were impacted by the High Park fire in June of 2012, which burned over 87,284 acres—the second largest fire in Colorado history. Post-fire landscapes, such as these, are very vulnerable to flooding, with the water flow increasing to 5 to 10 times the pre-fire levels for any given rainfall.
Using Internet-Driven Data
While alerting people to existing flash flood conditions can be critical to their safety, using external data to communicate the potential for dangerous conditions can also be a vital precaution. For this reason, WET and Larimer County wanted to use autonomous flasher stations that were not based on current, localized measurements. Rather, they wanted their stations to operate based on credible data from wide-area forecasting to determine the potential for near-future, severe weather conditions.
The warning systems in Redstone and Rist Canyons operate based on flash flood warnings issued by the National Weather Service (NWS). Because there is cell reception at the stations, the warning-system data loggers use cellular modems to access the Internet, download the NWS flash flood warnings, and parse the reports for keywords, such as the county name. With this information, the data loggers may activate the flashing lights perhaps hours before a storm actually occurs, thus providing ample warning to people who are currently using, or who may want to use, the canyons.
Additional Methods of Control
In addition to reacting to NWS flash flood warnings, the Colorado canyon systems offer additional methods of control. Emergency responders at the flashing stations can turn the systems on or off manually, and the systems can be controlled remotely using LoggerLink or LoggerNet software. When either flashing station is activated via the weather forecast data, a notification email message is sent to the station owners.
Multiple Applications for Warning Systems
If the safety of people visiting your area is a primary concern, a warning system may be a good solution. Warning systems are used in a variety of applications, including flood warning, dam safety, irrigation control, avalanche warning, lightning detection, and weather monitoring. Although we offer turnkey solutions for these markets, we can creatively help you use the hardware and software for custom solutions. These solutions can include accessing the Internet of Things to benefit from data greater in scope than what a localized station can provide on its own.
More Information
This article has briefly illustrated how you can use a warning system to prepare for rapidly changing weather conditions and help ensure the safety of those in the affected area. (Disclaimer: While a warning system can provide advance notice of unsafe conditions, a warning system cannot guarantee prediction of all unsafe conditions.) To discuss how you can use Campbell Scientific equipment in a warning system to meet your specific needs, submit an Ask a Question form.