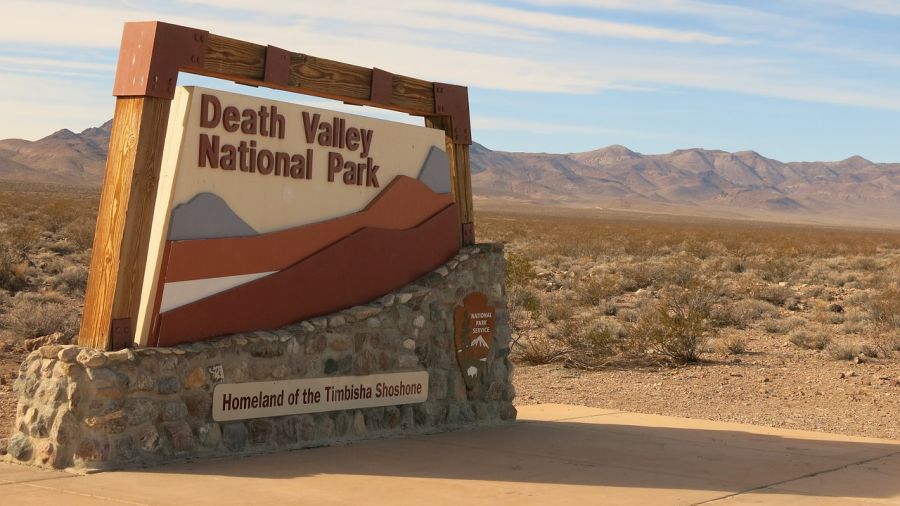 In this article, I'll share my experience collaborating on a research project to record some extreme weather conditions that may even set a world record!
On August 16, 2020, the weather station located at Furnace Creek in Death Valley National Park (California, USA) recorded a temperature of 54.4 °C (130 °F). If confirmed, this would be a record high for an automated measurement in the western hemisphere, perhaps even the world. News of this, of course, got a lot of attention from both enthusiasts and skeptics. The National Weather Service (NWS) is conducting a rigorous test of the instrumentation involved, which will determine whether a new record has, indeed, been set.
Recommended for You: These articles provide additional information:
Shortly after that temperature was recorded, I got in touch with the personnel in the Las Vegas office of the NWS who oversee and maintain the Furnace Creek weather station to see how I—and Campbell Scientific—could be of assistance. Understandably, they ultimately chose to test the sensor in an independent lab rather than send it to us (the manufacturer). However, I also offered to collaborate with them and the National Park Service (NPS) on a short-term research project that would co-locate a high-accuracy temperature measurement next to their existing station for a few months.
Note: This article does not express the opinions of the NWS, the NPS, or either agency's personnel, nor does it imply an endorsement of Campbell Scientific by either agency.
And so, I found myself in Death Valley in early May 2021 installing a station at air temperatures that were already in excess of 38 °C (100 °F).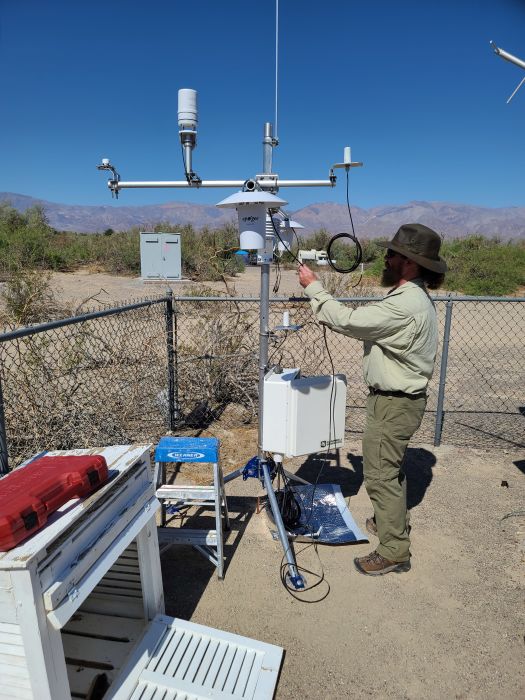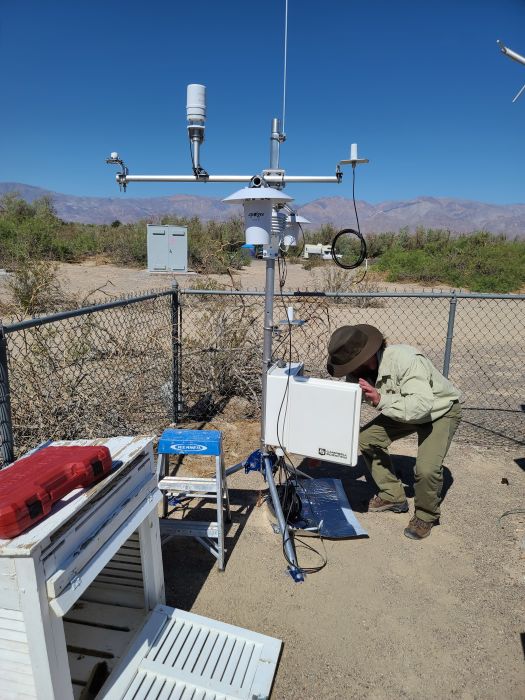 Some Details...
The August 16, 2020 temperature was recorded by a CR1000 Measurement and Control Datalogger with a CS215-L Digital Air Temperature and Relative Humidity Sensor that was mounted in a passive radiation shield. A passive radiation shield is simply a set of carefully designed plates that are stacked together. These plates are spaced apart and designed to prevent direct sunlight from impacting the temperature measurement while allowing air to flow through and past the sensor. Direct solar radiation on a sensor can cause a large upward bias in measurements—several degrees Celsius in some cases.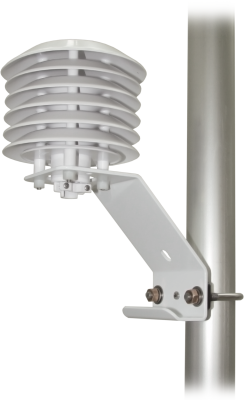 A passive radiation shield
At times of low or no wind, however, air can become trapped in a passive shield that also causes a bias—though not of the magnitude caused by solar radiation. An active, or aspirated, radiation shield addresses this issue by incorporating a fan to continuously move air past the sensor while also protecting it from solar radiation. This method is commonly considered the best for accurate air temperature measurements. Until recently, however, aspirated shields required a prohibitive amount of power to operate on remote, low-power weather stations.
An aspirated radiation shield
The new station I installed includes two TS100SS Aspirated Radiation Shields and two passive 41303-5A 6-Plate Solar Radiation Shields. There is a HygroVUE™5 sensor (measuring temperature and relative humidity) in one of the aspirated shields and one of the passive shields. In the other aspirated shield, there are three independent thermistor beads. In the other passive shield, there is a 109 Temperature Probe. The thermistor beads are the same as those used in the 109.
Some of the key features of the TS100SS aspirated shield are that it is lower power and cost compared to others on the market. The shield incorporates an aerodynamic design to take advantage of winds when they occur. In addition, the duty cycle of the fan can be controlled to save power—for instance, reducing the fan speed at night.
Also included on this station are a ClimaVUE™50 Compact Digital Weather Sensor and a CS320 Digital Thermopile Pyranometer. A CR1000X Measurement and Control Datalogger was also installed next to the CR1000 for independent data collection. Data from the CS320 are used by the CR1000X to reduce the duty cycle of both TS100SS shields at night to save power.
Prior to installation, I tested the 109 sensor and triplicate thermistor beads in our liquid bath (Fluke 7040 High Precision Bath) using a Rosemount PRT as reference. This bath controls the temperature of actively circulated antifreeze so that we can have confidence that the sensors are exposed to the same conditions. The most recent calibration certificate of the Rosemount from an independent lab shows that its uncertainty is less than 0.01 °C over the range of approximately -40 to +230 °C. At 50, 55, and 60 °C, the 109 sensor and thermistor beads all performed very well. (See the figure below.) For instance, the maximum absolute difference relative to the reference across sensors and temperature set points was 0.07 °C.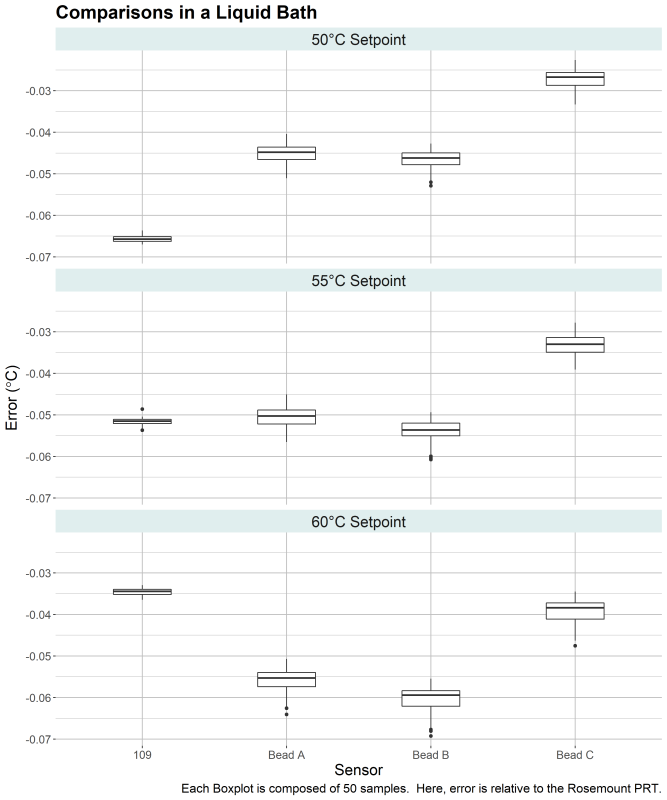 Pre-deployment temperature sensor testing against a high-accuracy reference Rosemount PRT
Click the figure for a larger image.
What's Next?
I will return to Death Valley in the fall of 2021 to take down the temporary station. In the meantime, I and my collaborators with the NWS and NPS will be watching with interest. I can't say that I unreservedly wish for a record temperature to be set this summer due to the other implications it would have in a warming climate. However, there will be a great deal of interesting data produced regardless of what conditions actually occur.
If you have questions about this research project, please post them below.