At Campbell Scientific, we understand the value of your solar energy farms and the necessity to keep these energy-producing facilities in top condition. To help you monitor their efficiency, we've designed innovative solar monitoring equipment that has been tested through deployments all over the world. But how can monitoring the effectiveness of alternative energy sources best benefit you? In this article, we'll look at some important considerations.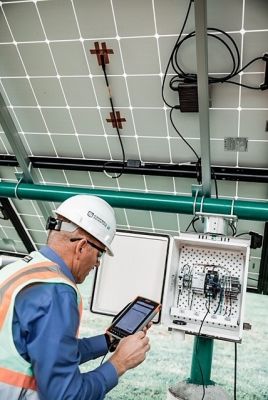 What monitoring equipment is needed on a solar farm?
In the case of solar energy—to pair with power and efficiency data—each solar farm must have automated weather stations that provide important input parameters, including incoming solar radiation, ambient temperature, module cell temperature, and wind. These stations provide owners and operators with site performance data to help them ensure the site is performing as expected during the life of the project.
What are the benefits of a turn-key monitoring system?
Solar monitoring stations are automated data-acquisition systems specifically designed for research, resource assessment, and performance validation in the solar energy industry.
Preconfigured systems, designed to meet current standards, provide input on the available solar resource and output to any network (SCADA or other) or software to determine how a solar farm is performing.
Systems are multifaceted data collectors that have the flexibility to work in any desired environment.
Each station measures multiple parameters, which can include global horizontal and plane of array (POA) irradiance, air temperature, wind speed, wind direction, barometric pressure, and back-of-module temperature.
These stations also simplify sensor wiring and reduce installation time with their prewired and pre-programmed design.
How can the MeteoPV system benefit a solar project?
The MeteoPV is a photovoltaic sun-station data logger with the flexibility to communicate with solar radiation sensors, reference cells, back-of-module temperature sensors, and compact weather sensors. It also features Power-over-Ethernet (PoE) compatibility and hosts an intuitive onboard user interface.
You can expect simple configuration and easy-to-create field commissioning reports.
With the MeteoPV system, you have a complete monitoring station that does everything from collecting the data to storing and analyzing it.
The MeteoPV can connect to different sensors and collect the data while uploading it to a web interface or SCADA network automatically. This system is an efficient data collector from start to finish—a great solution for projects that need systems immediately.
Can MeteoPV systems be customized?
Typical applications include pre-construction phase solar resource assessment, baseline data collection, and performance monitoring. Systems are easily customized by selecting accessories for every aspect of the station. You can purchase measuring and monitoring instruments individually to create your custom system or review our existing systems and their configurable options to easily create a system that will provide you with the measurement data and control options your application requires.
Conclusion
Whether you're looking for a preconfigured system or want to build your own, Campbell Scientific's monitoring systems are built to be flexible for any environment and rugged enough to withstand the elements. To learn more, visit our Solar Energy solution web page for additional solar monitoring options.