An automated weather station is an integrated system of components that are used to measure, record, and often transmit weather parameters such as temperature, wind speed and direction, solar radiation, and precipitation. Weather stations are used on land and sea for a variety of operational and research purposes. Rugged design, low power requirements, and long-distance communications methods allow modern weather stations to operate remotely for long periods without the need for human intervention.
Weather stations vary greatly in their level of sophistication and complexity, as well as their flexibility and ability to measure, monitor, and study weather and climate conditions. For example, some weather stations require manual collection of the measurement data, while other weather stations are highly automated.
Manual reading and recording of weather measurements can be done by visiting the site where the weather station is located, viewing the measured values, and logging the data by hand or by using a handheld electronic device. This process can be a cost-effective solution for short-term weather monitoring programs or for infrequent measurements. However, for frequent measurements, long-term monitoring, remote monitoring, or measurements at multiple locations, manual measurement recording can be inconvenient and labor intensive. Not only do trained personnel need to be available to record the measurements, but some site environments may pose safety concerns for personnel.
Automated weather stations measure and record meteorological variables over extended periods without the need for human intervention. Automated weather stations offer the convenience of unattended, long-term monitoring at multiple remote locations, thereby reducing the time and cost associated with frequent measurements. In addition, the possibility of human error in data collection is minimized. For more information, review the following source: Bertrand D. Tanner, "Automated Weather Stations," Remote Sensing Reviews 5, no. 1 (1990): 73-98.
The durability and low-power needs of some automated weather stations can make them an appropriate choice for harsh climates and remote locations. Some automated weather stations are so versatile that they can be configured in many ways to record, monitor, and study weather patterns over time, as well as regional climate changes. In fact, the data from multiple networked automated weather stations, such as in a mesonet, can be transmitted to a centralized location where the data are compiled, reviewed, analyzed, and shared.
An automated weather station (AWS) comprises a variety of components that work together to measure, store, and communicate weather parameters. Automated weather stations can vary greatly in their design. For example, a simple automated weather station designed for limited personal use may be a self-contained unit. A more sophisticated research-grade automated weather station, on the other hand, may have several components that the organization individually selects to create a customized solution to meet their needs. The components of a customized automated weather station may include the following:
Some common sensors used in automated weather stations, and the parameters that they measure, are the following:
| | | |
| --- | --- | --- |
| Sensor Type | Parameter Measured | Example Sensor |
| Anemometers | Wind speed | |
| Barometers | Barometric pressure | |
| Hygrometers | Relative humidity | |
| Potentiometers/wind vanes | Wind direction | |
| Pyranometers | Incoming solar radiation | |
| Precipitation gages | Rainfall and snowfall | |
| Radiometers | Incident radiation measured directly or reflected by a surface | |
| Thermistors, thermocouples, and platinum resistive thermometers | Temperature | |
Each sensor is tailored to measure a single or multiple parameters, convert each measurement to an electrical signal, and transmit the signal to a data logger. The transmitted electrical signal is often conducted through a sensor's wires, which may require specialized connectors. Alternatively, the transmission can be conducted via wireless communication.
The number of wires or the type of connector the sensor uses depends on the type of signal the sensor outputs. The signal type, in turn, varies across the many different sensors. Some common signal types include voltage, current, pulse, digital, and serial. When wireless interfaces are integrated into the sensor, the data logger must have a matching wireless device.
Data logger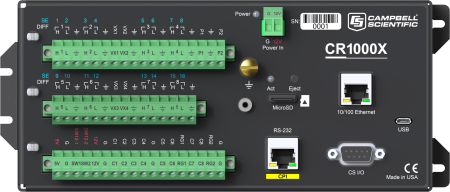 Note: Technically, a measurement and control device, such as a PLC (programmable logic controller) or RTU (remote terminal unit), can be used instead of a data logger in an automated weather station. However, for the purpose of this discussion, our focus will be on general-purpose data loggers, which tend to offer more flexibility for an automated weather station's application. For example, a flexible data logger is easy to install in the field for remote monitoring, is durable enough to withstand continued use outside, and has low-power needs for unattended applications.
The data logger can be programmed to scan the sensors repeatedly after a specified interval has passed (the scan rate), under specified conditions, or after the occurrence of a particular event type (such as rainfall). A sophisticated data logger can receive the electrical signals from the sensors, perform any programmed calculations, convert the data as necessary to other units of measurement, and store the resultant data in the data logger's memory. In addition, the data logger can perform control operations, similar to a PLC or RTU.
The signal output from the sensor must be compatible with the data logger input terminal to which it is connected. A data logger may have a variety of input connections to accommodate different sensor configurations, as well as onboard instructions for commonly used sensor types. If different sensor configurations or new data processing requirements are needed, some data loggers' capabilities can be expanded by using a multiplexer.
Communications (data storage and retrieval)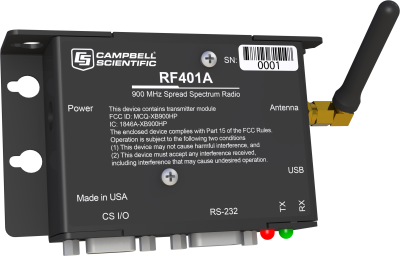 A variety of methods can be used to store the data logger's acquired data, as well as transfer the data and any calculated values to a PC or other device for increased access, sharing, analysis, and reporting. These methods employ a variety of communication peripherals with onsite and telecommunication options.
Sometimes a data logger can be connected directly to an onsite PC or laptop. Other onsite external memory storage options include USB flash memory, microSD cards, or manufacturer-specific solutions.
For many sites, it may be helpful to use a remote telemetry peripheral to provide communication or enable remote data retrieval. There are hardwired remote telemetry options (Ethernet, multidrop network, satellite, short haul modem, landline phone, and voice-synthesized phone), as well as wireless options (radio frequency, cellular phone, and Wi-Fi).
Software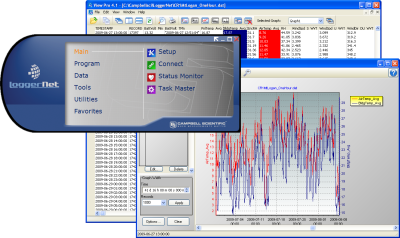 To assist with the sharing, analysis, and reporting of a data logger's acquired data, specialized software is used. Software packages can assist with a number of tasks, including the following:
Development of custom applications for communication with data loggers
Creation and editing of data logger programs
Cloud-based data collection
Organization and storage of data in databases
PC-to-PC data distribution
Communication with an iOS or Android device
Graphical display of data from multiple data loggers on a single web page
Power supply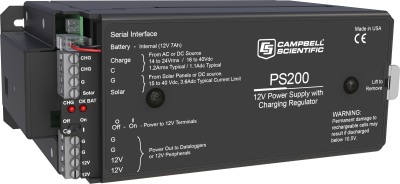 For an automated weather station to operate, it is necessary to have a reliable power supply. When a station is installed in a location without access to ac power, a rechargeable battery is typically used. The number and size of the batteries needed depends upon the current drain (or power requirements) of the automated weather station (including telemetry), the maintenance interval, and the amount of solar power available during a given time interval (for example, 24 hours) at a given latitude to recharge the batteries.
Alkaline batteries require replacing, and a rechargeable battery requires recharging. Recharging a battery necessitates the use of a regulator and a charging source. The charging source is typically either an ac transformer or a solar panel. (Power to an automated weather station can be supplemented with an external rechargeable battery, which is also recharged using a regulator and a charging source.) Sometimes wind turbines, fuel cells, or diesel or gasoline generators are used as charging sources.
Enclosure and mounting equipment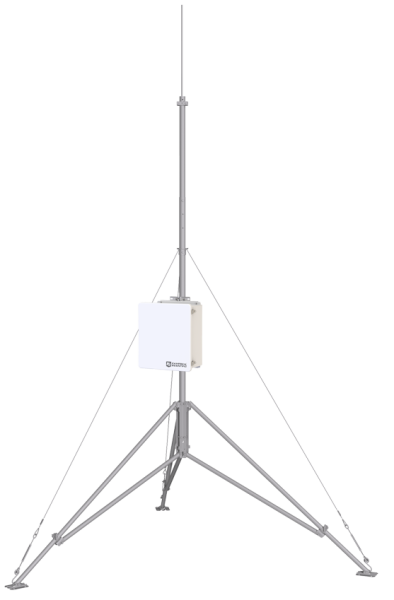 To protect an automated weather station's most sensitive components from the elements, a suitably sized environmental enclosure is typically used to house a data logger, communication peripheral, power supply, and some sensors. An automated weather station's components, whether placed in an enclosure or directly exposed to the elements, are grouped together and physically supported by mounting them to a stable structure, such as a tripod, tower, or buoy. To meet different measurement requirements, a variety of tripod and tower heights are available.
---
Where can automated weather stations be used?
While many automated weather stations are designed to be installed in moderate environments, some are specifically designed for extreme environmental conditions. These extreme environments include mountainous terrain, deserts, jungles, mines, oceans, and ice floes. An automated weather station is often left unattended for lengthy periods to automatically process and record measurement data from a variety of sensors until the monitoring period ends, which may be decades later.
An automated weather station may be positioned to collect data from a single location, or multiple stations may be networked (such as in a mesonet) to acquire data for a larger geographic area.
---
How do automated weather stations differ from each other?
While automated weather stations can be compared and contrasted on many different levels, the following are some primary characteristics that may be helpful for you to be mindful of:
Quality
Flexibility and expandability
Installation method
Setup
Quality
It is important to note that different manufacturers do not use the same criteria for classifying automated weather stations. For example, a station considered by one manufacturer to be a "professional" instrument may be considered by another manufacturer as suitable only for home-based personal use (such as a hobbyist mounting a station to a roof). Because the terminology used to categorize automated weather stations is not consistent, it should not be relied upon solely to differentiate among automated weather stations. Rather, it is important to understand the intended purpose of an automated weather station, as well as its siting, and to consider the quality-related characteristics that affect the probable success of the station to fulfill that purpose.
The following quality-related characteristics of an automated weather station, explained in the following sections, may affect its performance and fulfillment of its intended purpose:
Measurement quality (accuracy, precision, and resolution)
Reliability
Expected longevity in the field
Measurement quality
Accuracy, precision, and resolution are terms that are often confused and used inaccurately when describing measurement quality. The following brief definitions are provided to clarify the meaning of these terms:
Accuracy is the ability of a measurement to provide a result that is as close as possible to the actual value.
Precision is the amount of agreement between repeated measurements of the same quantity.
Resolution is the smallest change in a quantity that can be detected.
Although an automated weather station's quality is reflected in its accuracy, precision, and resolution, these characteristics are not directly correlated. For example, just because an automated weather station can provide very precise measurements, the measurements are not necessarily highly accurate.
Automated weather stations are built for different purposes. For example, a simple station that records outside air temperature and humidity with low measurement quality (accuracy, precision, and resolution) may meet the data needs and low-cost requirements of a weather hobbyist. On the other hand, an organization whose primary business or purpose is to obtain and distribute weather information may need a more sophisticated automated weather station with better measurement quality to record not only air temperature and humidity, but also barometric pressure, precipitation, wind direction, wind speed, and other parameters.
Reliability
The reliability, or consistency over time, of weather measurements conducted by a weather hobbyist may not be a critical factor, as the weather hobbyist may only need intermittent data. The same is not true, however, for a national weather reporting agency that depends heavily on an automated weather station performing consistently day in and day out to deliver data for the prediction and reporting of severe storms.
Expected longevity in the field
Longevity is a critical factor when considering the purpose of an automated weather station and how it will be used. A weather hobbyist who has spent a minimal sum for a personal station may not be concerned if it begins displaying erratic measurements or fails completely and needs to be replaced after a short period. In contrast, an organization whose primary business is to obtain, evaluate, and distribute weather data and has spent considerable resources for data acquisition will expect its automated weather station to be durable and provide long-term monitoring.
Flexibility and expandability
In many cases, the flexibility and expandability of an automated weather station is determined by the data logger used. Data loggers can vary greatly in their flexibility.
Some data loggers can only be used to follow the preprogrammed instructions of the manufacturer. These data loggers can scan sensors and record measurement data only at the intervals set by the manufacturer.
Other data loggers can be configured within certain limitations. There may be a few interval options to choose from for these data loggers.
Still other data loggers offer diverse programming options to the user. Using the programming language, these data loggers may be set to measure and record data at an interval, under specified conditions, or in response to an event (such as rainfall).
In addition, there is significant variability in the sensor compatibility of different data loggers. Some data loggers can only scan the sensors supplied with the data logger, others only scan sensors from a supplied list, and still other data loggers have a broad enough selection of terminals to measure nearly any sensor with an electrical signal.
Data loggers that offer options for flexibility and expandability can vary in the number of terminals they offer (determining how many sensors or other devices can be connected), as well as the types of terminals they offer (determining which types of sensors or other devices can be connected). Both current and future needs for expandability can be addressed by selecting a data logger and any necessary, compatible expansion modules, such as a multiplexer.
A flexible data logger enables the ease of removing and adding sensors as necessary to acquire the desired measurements when they are needed.
Installation method
All automated weather stations are either portable or permanent in their design. It is important to note that the terms "portable" and "permanent" may be used to cover a breadth of automated weather stations that vary greatly in their sturdiness and stability. For example, a station labeled by one manufacturer as "portable" may be, in fact, sturdier than another manufacturer's "permanent" station.
Portable stations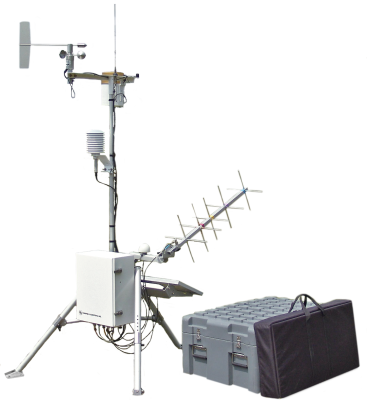 Typically, a portable automated weather station is considered one that can be moved easily from one site location to another. (If required, however, a portable station can remain at a single site.) Oftentimes, a portable station is installed using a tripod secured directly to the ground. A guy wire kit can be used to increase the stability of a portable station.
Some applications require a portable station that can be set up quickly to monitor weather conditions for a short period. For example, a portable automated weather station is used for prescribed burns to monitor the wind conditions and help ensure that fires remain controlled. As another example, a portable automated weather station is used at a hazardous chemical spill to monitor soil and weather conditions for chemical drift and hazardous fumes.
Permanent stations
A permanent automated weather station is designed to remain at a site for an extended period. (If required, however, a permanent station can be moved from the site.) Oftentimes, a permanent station is installed using a tower secured to a user-supplied, ground-based concrete pad.
Setup
Automated weather stations vary in their ability to be set up in a particular way, which directly relates to their readiness for immediate use:
A turnkey (or ready-to-use) station requires minimal setup after removal from its packaging because it typically can only be operated in a single way, and there is either minimal or no configuration required.
A prewired or preconfigured station typically comes with a standard suite of sensors prewired to the data logger, and the station offers some configuration options.
With a custom station, often the sensors are individually chosen to match the needs of the application and site, and the sensors are not prewired to the data logger. A custom station offers the most configurability.
Turnkey stations
To the general public, a turnkey automated weather station is usually a simple, low-end model with limited functionality and an easy setup process. For example, after an analog station has been removed from its packaging, its only setup requirement may be to place it in the desired location. As another example, a digital or wireless station for a hobbyist requires a power source and perhaps minimal configuration of the display unit. If separate sensors are included, they require proper placement and/or mounting. Professional-grade turnkey automated weather stations are also available.
Prewired or preconfigured stations
In an installation for a prewired or preconfigured automated weather station, the organization can make some selections regarding which models of components are used. The prewired or preconfigured station has a set of components that have been configured by the manufacturer to work together, but some assembly for their connection may be required. For example, the data logger is housed inside an environmental enclosure that may or may not include connectors for attaching the sensors. If connectors are included, they may be keyed, color-coded, and/or labeled. Furthermore, the connectors can vary as to their IP rating and ability to protect against the intrusion of foreign objects or substances.
Custom stations
A custom automated weather station comprises a collection of components that, while not fully integrated by the manufacturer, are 100 percent compatible to provide the specific functionality required for the intended application. The manufacturer leaves the integration to the user to provide the highest degree of customization possible.
Because the components are not always prewired or integrated by the manufacturer, the installation of a custom automated weather station requires more effort when compared with other types of automated weather stations. Each sensor must be matched and connected to the appropriate input terminal. Determining how to make these connections is dependent upon the specific sensors and data logger being used. A sensor's instruction manual or the data logger's program may provide the specific wiring information.
---
How do you select the automated weather station that is right for your application?
Selecting an automated weather station is an important decision that requires careful consideration. For assistance with the selection process, review the detailed Purchase Considerations section.