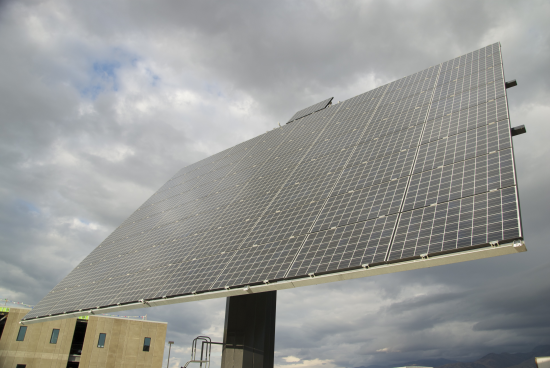 We have installed a major photovoltaic system for power generation and research at Campbell Scientific headquarters in Logan, Utah. We mounted a 27-by-40-ft solar array on a tracker, with a stationary reference station nearby, and we added a variety of measurement instruments to them. We look forward to this installation benefiting our work (and our customers' work) in several ways.
The most visible benefit is actual power generation. The photovoltaic array mounted on a two-axis tracking tower is rated at 13 kW. The electricity it generates, along with the many energy-saving features that are incorporated in our newest building, will help us use less outside energy and reduce our carbon footprint.
The behind-the-scenes benefit is the way the solar-power system lets us demonstrate and expand our expertise in renewable-energy research. We built a stationary station with a reference solar panel, and then instrumented that reference station and the tracking solar array with temperature sensors, pyranometers, and power-output sensors. We will be able to measure the output of a panel on the tracker tower and compare it to the output of the stationary panel for real-world comparison of their performance. The array on the tracking tower and the stationary test station will give us a continuous platform for testing instruments and techniques for use in the energy industry.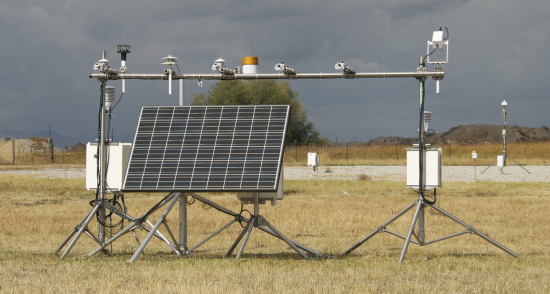 We are using our data-display software, RTMC Pro, to share the performance information from this solar-power system and the energy-saving components of our new building. It will be displayed on a screen in the new building when it is finished.
So much of the information that people depend on as they decide among renewable energy choices is based on theories and models. This new equipment will help Campbell Scientific continue to provide real data and practical expertise to help customers choose and implement energy solutions.