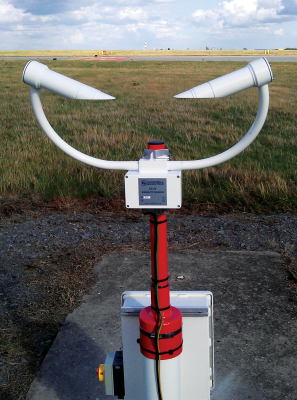 Visibility is an important meteorological measurement, especially for road, airport, and marine applications. Instruments to measure visibility have, until now, been expensive and fragile, with lots of design obstacles. Recently, engineers at Campbell Scientific Europe have developed a high-performance visibility sensor that overcomes these difficulties, at a competitive price.
The CS120 uses infrared, forward-scatter technology to develop accurate estimates of meteorological observable distance (MOR). Its design uses the proven 42° scatter angle. The design includes a sturdy body shaped to avoid interfering with airflow, resulting in a clean, undisturbed sample volume. The optics face downward to reduce contamination by dust or dirt and blockage by snow. The sensor even checks the source and detector lenses every second and adjusts its calibration to compensate for contamination.
Low-power heaters to prevent dew and higher-power heaters to de-ice are built into the body, adding reliability to the measurements. The heaters are automatically controlled, simplifying use in all types of weather.
Since the sensor is used in various weather conditions, it incorporates high-speed sampling, assuring accuracy when mixtures of rain, snow, and hail make measurements more complicated. And the light source is monitored and corrected every second for stability to compensate for variations in temperature and for sensor age.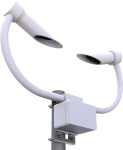 The CS120 can be used in stand-alone applications or as part of a system. The core sensor is power-efficient, drawing just 3 W during normal operation, including the dew heaters. In addition, the heaters and sampling rates can be adjusted to further save power. This makes it ideal for remote locations. It can be calibrated in the field with the optional calibration kit.
Besides reporting measurements, the sensor reports its own status. It features two user-configurable alarm outputs for solid-state output to audio or visual alarms.