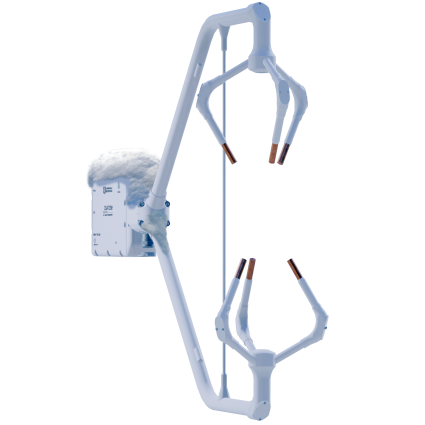 Are you ready to get heated? In this interview, Hayden Mahan, Product Manager of the Gas Flux and Turbulence Group, shares his excitement about our heated sonic anemometer (the new CSAT3BH) and why heat matters. Hayden was interviewed by Robin Deissinger, the blog editor.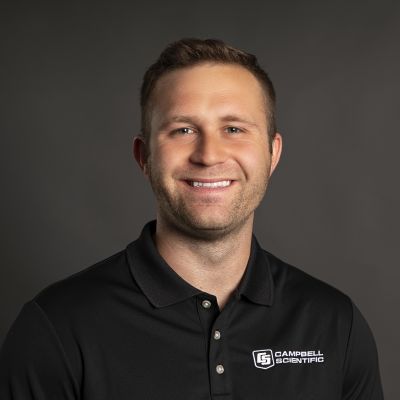 Interview Q&A
What is this new heated sonic anemometer?
We took our CSAT3B (and CSAT3A) 3-D Sonic Anemometer with Integrated Electronics and added heating elements to it for cold-weather applications. The new CSAT3BH and CSAT3AH (where the "H" refers to "heated") can prevent frozen precipitation from adhering to the sensor arms, strut, and transducers—all because of the built-in heaters. The heaters in the sonic anemometers are controlled by a smart electronics box. That box uses air temperature and relative humidity measurements from the included temp/RH probe to determine when and how much heat should be applied.
How does the CSAT3BH help our customers?
We have a number of customers with cold-climate wind-measurement applications. These applications are susceptible to large amounts of data loss from freezing precipitation interfering with the measurement path. After ice has formed on an instrument, it may be days, weeks, or even months before it thaws, resulting in unnecessary data gaps. That's a lot of data lost.
So, for someone who has dealt with these types of issues before, we are excited to offer this solution. Measurements that were not able to be made under certain cold conditions can now be made with confidence. It's easy to make wind measurements and avoid data loss from ice build-up on sonic anemometers using the new CSAT3BH and CSAT3AH.
Why are you excited about the CSAT3BH?
We are excited that it is possible to make wind measurements in conditions that were previously not possible. We are particularly excited for how thorough the heating algorithm is in the electronics box. It does not just remove ice from the sensor; it prevents ice from forming on the sensor in the first place so the loss in sonic anemometer measurements is minimal.
What about the power draw for these heaters?
Those who benefit from this might be wondering if this will consume too much power at their site. The good news is that the smart heating algorithm turns the heaters on automatically at low power. The sensor gradually warms as needed to prevent ice build-up. This guarantees that the least amount of power required to prevent ice is drawn. During times when the heaters are on, the data is flagged for added quality control and data verification.
How is the CSAT3BH different from other sonic anemometers?
Because of the heaters that have been integrated, the new CSAT3BH and CSAT3AH are unique compared with every other sonic anemometer on the market. These are the only high-quality 3-D sonic anemometers available that have a built-in algorithm to automatically regulate the amount of heat needed to prevent ice build-up on the sensor. Other heated sonic anemometers only provide 2-D lower-quality measurements, or they don't have a heating algorithm. We believe the heated sonic anemometers from Campbell Scientific are the best. Additionally, the CSAT3AH is the only heated sonic anemometer designed to be integrated into an open- or closed-path eddy-covariance system.
So, customers should use the CSAT3BH or CSAT3AH if they have cold-weather environments and a CSAT3B or CSAT3A for their other applications?
Yes, the CSAT3BH is our stand-alone heated sonic anemometer that can be used in wind-measurement applications where the wind measurements may become compromised due to ice accretion. The CSAT3AH is our heated sonic anemometer that pairs with our closed-path and open-path eddy-covariance systems. Both the CSAT3B and CSAT3A are designed for use when freezing precipitation is not an issue at the measurement site.
Are the CSAT3BH and CSAT3AH available now?
The CSAT3BH is available now for order. We anticipate that the CSAT3AH will be available to order within the next few months.
More Information
Do you want to learn more about the new heated sonic anemometer? Visit the CSAT3BH web page.
To ask Hayden a question about the CSAT3BH or CSAT3AH, post a comment below.