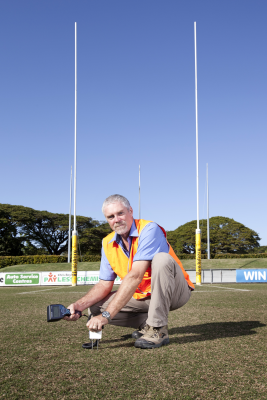 The HydroSense II is a portable, handheld device for easily obtaining soil measurements. It is the next generation of the HydroSense soil-water measurement system. Improvements over its predecessor include a more rugged probe design, additional navigation buttons for the display, expanded memory, an internal GPS receiver, Bluetooth communications, and more powerful PC software.
The new, rugged probe design allows insertion into harder soils. Design features include rods attached to the housing using ferrule nuts, and a molded plastic grip that securely fastens the probe's cable to its housing.
The new handheld display has a button layout that enables one-hand operation. Its three-inch LCD and four navigation buttons simplify the process of changing settings and taking measurements. More than 1,000 measurements can be stored in its internal memory. The integrated GPS receiver allows each measurement to be tagged with its latitude and longitude. The measurements can then be grouped into zones and each zone's average soil moisture calculated.
The handheld display's data are transmitted to a PC wirelessly via Bluetooth. PC software designed specifically for the HydroSense II allows the user to:
Show data in a table or chart
Edit zone positions and sizes
Change device settings
View zones and measurements in Google Earth