All sensors and measurement equipment will require calibration, maintenance, and repair at intervals throughout their lifetime.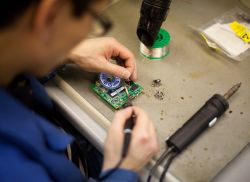 To ensure the integrity of measurement data and minimize costly unplanned interruptions, the most effective approach is regular calibration and preventive maintenance of your measurement devices.
Campbell Scientific maintains testing and calibration standards to service all equipment that we sell. Our experienced technicians are trained to provide high-quality, efficient repair and calibration services at many of our locations around the globe.
Returning products for repair and calibration
Before returning any equipment for service, please contact us first to obtain a return material authorization (RMA) number. To find out how to do this, visit the Returning Products for Service (RMA) page.
Field repairs and maintenance
If you require support in the field, visit our Installation, Commissioning, and Maintenance Services page and contact us to discuss your requirements.