Have you heard that Campbell Scientific, Inc., has a new president? Are you curious as to what changes might be coming as a result? In this short interview, we learn about the man who will be leading our company forward.
Get to Know Rob Campbell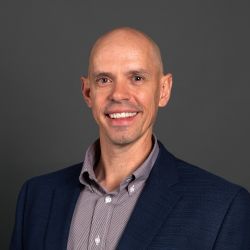 On September 1, 2015, Paul D. Campbell stepped down as president of Campbell Scientific, Inc., and Robert H. Campbell assumed this leadership position. Rob Campbell comes to us from having served for the past 13 years as president of Juniper Systems, Inc., the largest subsidiary of Campbell Scientific and a manufacturer of rugged, handled computers.
Although Rob has been busy settling in and making the rounds to meet all of our approximately 300 employees, he took the time to answer some interview questions and help us see the big picture.


Interview Q&A
What excites you most about working at Campbell Scientific, Inc.?
"
When you stop to think about all of the problems that can be solved by accurately characterizing the physical world through precise measurement, it's pretty exciting what kinds of things we can have an impact on.
"
A lot of things excite me about Campbell Scientific. The markets and applications in which we are deploying our measurement instrumentation are fascinating. When you stop to think about all of the problems that can be solved by accurately characterizing the physical world through precise measurement, it's pretty exciting what kinds of things we can have an impact on. But if you pin me down on one thing—one area we're serving—I think it's got to be meteorology. Weather has always fascinated me.
What do you hope to accomplish in your new leadership role?
I'd like to make sure we take care of our customers. They are at the center of everything we do, and we can't lose sight of that. In conjunction with taking care of customers, we must take care of our employees because they are the ones that make it all happen. They take care of the customers. They design the solutions, build the products, and answer the questions. We've got to make sure they are well taken care of.
If we take care of customers and employees, build some really cool products, and have a lot of fun doing it, then I'll feel like I've accomplished a lot!
What does "having a passion for your work" mean to you?
Passion for your work means being excited when you come into the office: excited to get engaged and to make a difference. For me, being passionate about my work is when I feel like it's a giant game that I'm playing. I'm having fun, I'm being challenged, and we're winning!
What is your philosophy on transparency?
People ought to know what's going on. Early on in my career, I was frustrated because I could never tell whether the company I was working for was winning or losing. I didn't know what we were trying to accomplish, let alone how we were doing. That had a profound impact on me as I've moved into positions of greater responsibility.
I figure if someone wants to know how we're doing—how customers view us, what our financials look like—I share those kinds of things. I've found that when you share the big picture, everyone has a better opportunity to influence the outcome. It wouldn't be any fun if you put up a curtain in front of the bowling pins in a bowling lane and just tried to do your best. People want to know what the results are. That's what makes it fun. That's why I try to share results and get people actively engaged in influencing those outcomes.
What do you think will be the biggest change at our company in the near future?
I don't know if there will be one "big change" so much as there will be a series of small changes. We'll probably have a little more structure, a more forward-thinking mindset, and we'll be working to make sure we are in alignment in our efforts as a whole.
What message do you wish to communicate to our customers?
We'll be working to earn the continued trust and respect of our customers. Being in business for 41 years is a great accomplishment, but we need to continue to improve. We will not be complacent with where we are or where we have been. We can always do better. Quality, service, and innovation are at the heart of what we do, and we'll continue to advance our capabilities on all these fronts.
What do you want all of our employees to know?
Our employees are great people. We have an incredibly intelligent team of people that are genuinely passionate about science, measurement, and innovation. I'm excited to be leading this team and know we're going to accomplish some amazing things. We'll work hard, make a difference in the world, and have some fun doing it!
Outside of work, what is something you're passionate about?
I'm a college football fan. Every year in late July or early August, I buy at least one college football guide. (I can give you my opinion as to which one is the best one to buy.) I study all of the teams, players, and coaches—their past stats, trends, predictions for the upcoming year. I love studying what makes college teams great because I think there are lessons that can be learned and applied to any organization. Needless to say, my wife breathes a sigh of relief when the college football season is over because she's so tired of me changing the TV channel to whatever college football game is on at the time. Oh…and go Utah State Aggies!
Welcome, Rob, to your new role at Campbell Scientific, Inc., and thank you for leading us forward.
If you have any questions or comments about our company or products, please let us know by completing our online Ask a Question form.