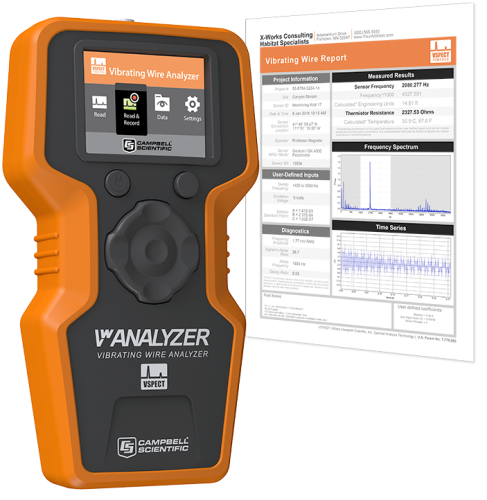 You may not realize just how helpful our handheld instrumentation can be—especially when it makes it easy for you to test your vibrating wire sensors, saving you time and money if a failed sensor is identified prior to installation. Let's dive deeper into the five ways you can benefit from using our VWAnalzyer Vibrating Wire Analyzer.
Before we get started, you should know that our VWAnalyzer uses our patented VSPECT® technology. If you're not already familiar with VSPECT, take a moment to watch our short VSPECT—Understanding the Basics video.
#1 – Uses the integrated GPS to help you find the source of noisy data
This feature is really cool! You can set up your VWAnalyzer to find the approximate location of your specific sensors. During your setup, use the integrated GPS of the VWAnalyzer to record the location of your sensors. Later, when you need to find noisy data and you don't know where it's coming from or what's causing it, you can use this information to find the approximate location of your specific sensors, locate where the noisy data is coming from, and more quickly resolve any issues.
#2 – Converts measurements into engineering units for you
After you set up the engineering units you need, the VWAnalyzer will automatically convert your data into your preferred units. Yes, you read that right! This field reader automatically converts your measurements into engineering units for you. This will save you the time and effort of converting the units yourself.
#3 – Provides personalized reports
Not only can the VWAnalyzer generate a PDF report, but you can customize the report for your project with your name, logo, and project information. In addition, you can include specified data such as your defined input diagnostics, sensory frequency, resistance, and frequency spectrum and time series graphs. These will make it easy for you to identify the project and the data you need. See the report below as an example.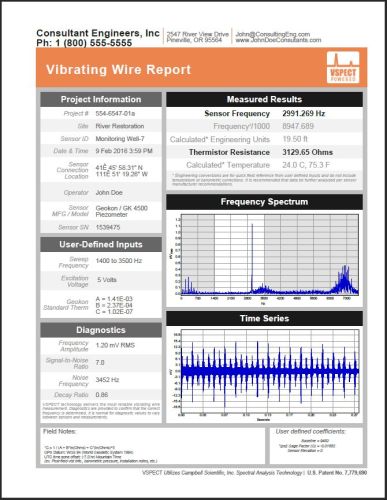 #4 – Reads any vibrating wire sensor
You may be thinking, Will this work on my vibrating wire sensor? The answer is yes! It's an easy setup too. Our VWAnalyzer has a library that contains common vibrating wire manufacturers and common sensors to help you get set up quickly.
Don't worry if your vibrating wire sensor isn't in our library already. Our VWAnalyzer will still work with your sensors. We've included easy-to-use settings and equations to help you calculate the units you need.
#5 – Makes setting up and transferring data easy
Setting up the VWAnalyzer is easy. Each wire is color coded to match the sensor. You can test the reader in your office before setting it up in the field. The full-color screens, along with the easy-to-use menus, help you read, set up, and understand your data more easily. You also have the option to quickly transfer PDF and CSV files with a USB connection.
A Quick Recap
Our VWAnalyzer uses VSPECT technology to help you understand your data better.
You can program different sensor locations and see where noisy data is coming from.
When you initially set up the VWAnalyzer, you'll program it with your preferred engineering units of measurement. The device will automatically convert the data into your preferred units.
Personalized reports give you the data that is most important to you.
The most common vibrating wire sensor manufacturers are already programmed into the VWAnalyzer.
The VWAnalyzer is easy to use and set up.
Recommended for You: If you're interested in learning more about the VWAnalzyer, please use these resources:
---
Credits: Michael Adams, Eric Schmidt, and Josh Brown of Campbell Scientific, Inc., contributed to this article.
---
We're always here to help if you have any questions or need assistance setting up the VWAnalyzer.
If you have questions or comments, please leave them below or reach out to one of our application engineers or our sales team.