Reliable, Accurate Wind Direction
Sensor for only measuring wind direction
Request a Quote
Ask a Question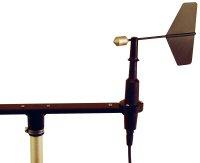 The 03301 is the wind vane included with our Wind Sentry Sets (03002, 03001). Although some customers have valid applications that require monitoring wind speed only (without direction), monitoring wind direction only (without wind speed) provides little useful information. For this reason, the 03301 is available for two purposes:
As a replacement vane for a Wind Sentry Set that requires replacement of the vane only, and
As an "upgrade" for a customer that originally purchased only the anemometer and now wants to add the vane to make a complete Wind Sentry Set.
The "-L" on a product model indicates that the cable length is specified at the time of order.
Ships With
(1) 03301CBL-L Wind Direction cable of user specified length
(1) Allen wrench from original mfg