Integrator / Consultant: Western Weather Group, Inc.
Western Weather Group, Inc. is an official representative of Campbell Scientific, Inc., for the locations and applications listed below.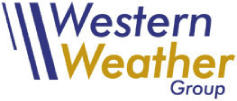 Western Weather Group's team has worked together in Chico, California, for over 20 years in the field of meteorology. Our highly skilled meteorologists, physical scientists, and support staff provide professional weather information services.
Western Weather Group specializes in custom, detailed, and site-specific weather forecasting. In addition, with over 25 years of experience in working with Campbell Scientific instrumentation, Western Weather Group also provides a complete line of industrial-quality meteorological and environmental monitoring systems. This includes the design, sale, leasing, installation, maintenance, calibration, and audit of these systems.
Supported Applications
Air Quality & Pollution, Weather & Climate, Evapotranspiration & Commercial Irrigation
Region Covered
States: CA
Contact Information
568 Manzanita Ave.
Suite 2
Chico, CA 95926 530-342-1700
530-342-0093 fax
www.westernweathergroup.com
info@westernwx.com
Have a Question?
Need a Document?
Need an Upgrade?
Need Training?